"(W)e are in no way diminished as humans and should be treated fully equally." – James Wood, DUG Panelist and Gamer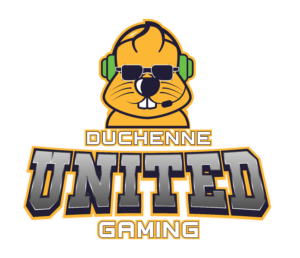 Duchenne United Gaming (DUG) is a Duchenne muscular dystrophy disease awareness initiative brought to you by PTC Therapeutics and CureDuchenne. The October 10 DUG Champion Competition will feature James Wood and four other gamers with Duchenne (Wil Cook, Hawken Miller, Chris Younkin and Adrien Quintero) competing in a Rocket League tournament via the online gaming platform Twitch. As panelists, these young men were also integral to the development and planning of this global rare disease event.
"The variables of actual people make online gaming more interesting and enjoyable due to the challenge that people create," explains James. "Online gaming is a great way to stay in touch with friends, meet mutual friends, and find more connections, all while doing an activity we share and enjoy from the comfort of our homes."
For James, engaging in video game competition with friends over the Internet plays an important part in his mental and emotional development – even as he copes with the physical challenges of Duchenne: "Gaming has made me better at strategy and communication, as I must coordinate with my friends to win. (It) has taught me how to problem solve, from playing difficult levels and having to figure them out.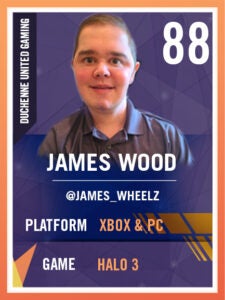 "Gaming gives me a topic to talk about, which makes talking to people easier," James says. In other words, it's a lifeline.
"Our disease is a disease of muscle. The brain is not a muscle," he explains. "(W)e are in no way diminished as humans and should be treated fully equally."
James is hopeful for a Duchenne muscular dystrophy cure – or further therapies to enhance quality of life and improve the chances of longevity. However, he is also realistic noting that Duchenne is a rare disease, sometimes overlooked: "(W)e need much more funding for research for these therapies to be achieved," he says.
For information about the DUG Champion Competition, please visit CureDuchenne.org.