PTC has been selected as "BioTechnology Innovator of the Year" in the second annual BioTech Breakthrough Awards program conducted by BioTech Breakthrough, a leading independent market intelligence organization that evaluates and recognizes standout life sciences and biotechnology companies, products and services around the globe.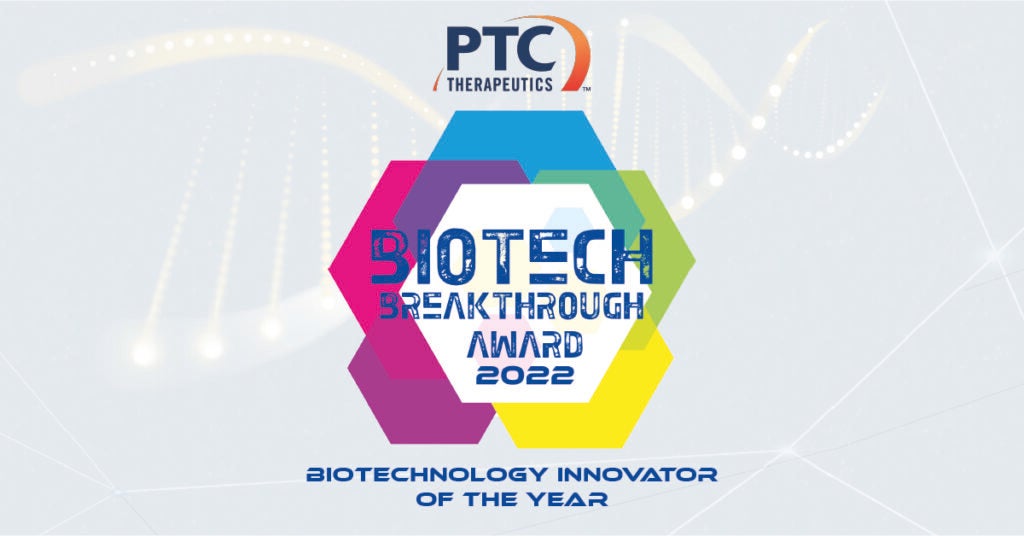 The award comes in recognition of our use of pioneering science to develop transformative therapies for diseases with high unmet medical needs, including our gene therapy for the rare genetic disorder aromatic l-amino acid decarboxylase (AADC) deficiency.
"Gene therapy is a nascent technology in terms of its use as a therapy for patients, and while there are many companies working on potential new therapies, the regulatory path for gene therapy is rapidly evolving, particularly for manufacturing," said Bryan Vaughn, Managing Director of BioTech Breakthrough Awards. "PTC's innovative gene therapy approach is groundbreaking and defines a new and important breakthrough that can lead to safer methods to utilize gene therapies to treat diseases. Congratulations on winning the 'BioTechnology Innovator of the Year' award for 2022."
The mission of the annual BioTech Breakthrough Awards program is to conduct the industry's most comprehensive analysis and evaluation of the top companies, solutions and products in the life sciences and biotechnology industry today. This year's program attracted more than 1,350 nominations from more than 12 different countries throughout the world.
Congratulations to our entire #OnePTC team!