PTC was thrilled to be shortlisted as a finalist in the Pharma Industry Awards in two categories, Biotech Company of the Year and Supply Chain Achievement Award, alongside remarkable companies and organizations in Ireland's pharma industry.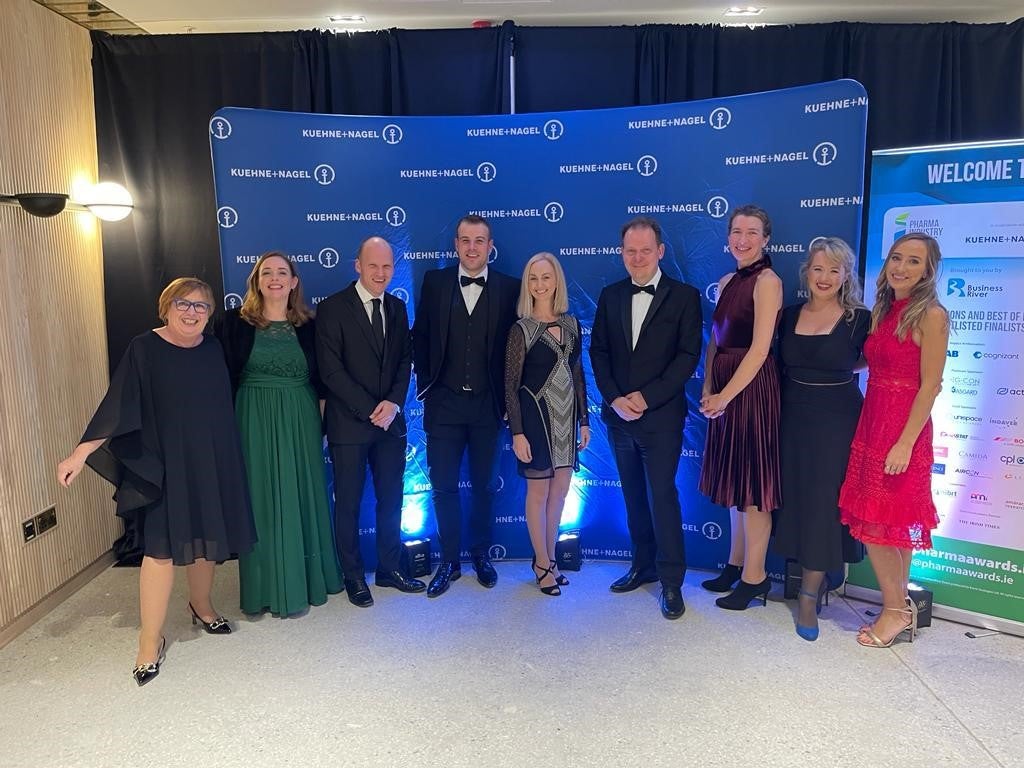 The Pharma Industry Awards recognize and celebrate the most original and innovative individuals and companies that demonstrate excellence in Ireland's pharma industry.
The team based at our international headquarters in Dublin, Ireland, which was established in 2014, plays an integral role in manufacturing, supply and commercial sale operations that enable PTC to deliver innovative therapies to patients with rare and serious disease worldwide.
We were honored to be a part of the shortlisted entries and congratulate our team on their hard work and dedication. Learn more about the awards below:
Supply Chain Achievement
Unlike the supply of conventional small molecule drug products and biologics, the supply chain for gene therapies requires a different, more complex approach. For the supply of PTC's recently approved gene therapy, our supply chain team in Dublin had to establish a new, unique, patient-centric supply chain model involving multiple stakeholders with highly specialized capabilities to deliver individual product directly to selected hospital pharmacies just in time for scheduled surgeries.
The product is delivered directly to pharmacy hospitals under stringent temperature controls (maintaining temperatures ≤ -65°C), using specialized transportation capabilities with GPS tracking, ensuring strict handling and storage protocols by highly trained staff at the Centre of Excellence, all of which is coordinated by PTC's supply chain team. This involves liaison and coordination among seven cross-functional departments within PTC, contract manufacturers and transport provider and a number of personnel at the hospital Centres of Excellence.
The goal is to deliver secure end-to-end supply of PTC's gene therapy product to pharmacy hospitals at the right time and level of product quality for the patient to receive treatment shortly after. Our main priority in this process is patient safety.
For a behind-the-scenes look at this process, read the interview with Karsten Rosdahl, Executive Director, Supply Chain and Logistics in Ireland.
Biotech Company of the Year
In July 2022, PTC's first gene therapy and disease-modifying treatment for Aromatic l‐amino acid decarboxylase (AADC) deficiency was approved by the European Commission (EC). In this relatively new field of molecular medicine, PTC is one of the pioneers in the gene therapy, being the first therapy to be injected directly into the brain.
As a first therapy of its kind and first to launch in Europe, many processes and capabilities had to be newly implemented and acquired. Some of the success contributors included approval and marketing authorization, supply readiness, disease awareness and treatment education, as well as establishing pathways for patient access to treatment.
In addition, to prepare for the launch and delivery of the treatment to patients, PTC had to increase investment and resources in all areas of business and operation. This included increasing headcount and additional expertise, upskilling, training and education for both internal and external stakeholders.
There were several challenges to navigate, which added strain and complexities into the preparations: the COVID-19 pandemic, unclear pathways for regulatory and reimbursement among government and healthcare systems and limited expertise in the talent pool. Despite these challenges, our commitment to patients kept us on track and we leveraged our core attributes to unlock a pathway forward with innovative solutions and capabilities. As a small/mid-sized company, we are proud to have pioneered new processes and procedures to bring this transformative therapy to patients worldwide.
Learn more: