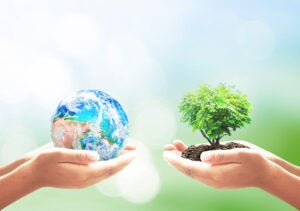 This year's theme for Earth Day is Invest in Our Planet, emphasizing the importance of protecting and preserving in the health of the Earth – for ourselves and our families.
We understand the impact people have on the environment, which is why we've always ensured we are compliant with environmental requirements and regulations. We encourage our employees to take environmentally friendly actions and provide many opportunities to feel united in our efforts across the globe.
As part of our environmental, social, and corporate governance (ESG) responsibility efforts, here are some of the ways we've committed to environmental sustainability over the years:
In Our Labs
Our laboratories meet all environmental standards and have consistently passed inspections by multiple government authorities
We moved to different assays to eliminate use of radioactive materials and reduce the generation of waste from those processes as part of a Hazardous Waste handling and disposal program in our laboratory operations
In Our Offices
Charging stations for electric vehicles were installed at our corporate headquarters
Ensured <25% of energy use is produced from renewable sources, and purchased 20% of electricity for SP from a "green" source (wind power)
We've replaced lightbulbs in all buildings at our corporate headquarters with LED lighting
We replaced older air handlers with more energy efficient units to utilize non-CFC refrigerants
We have filtered water coolers in all facilities to encourage the use of tap water in lieu of bottled water, and encourage our employees to use reusable water bottles and cups, plates and silverware to reduce the use of single-use plastics
We have a strong companywide recycling program and seek to maximize our use of recycled materials
On Our Team
We have a "Green Team" committee that takes action through recycling and reduction of food waste programs, as well as other environmentally sound programs
We support the Earth Hour initiative globally each year with company-wide activities
In Our Communities
In 2021, we supported the Hopewell Watershed Institute in their mission to protect and restore water and natural environment in central NJ through conservation, advocacy, science, and education
We donated to the One Tree Planted organization in recognition of Earth Day, and tied into an employee contest: Share Your Eco- Hacks
We care about our planet and have a steadfast commitment to maintaining a healthy world. To celebrate Earth Day, and every day after that, we will continue to invest in our patients – and our planet.