In 2021, PTC is a silver sponsor for the Global PKU Patient Conference in September. We had a chance to catch up with Monique Cooper – the conference chairwoman and president of the Metabolic Dietary Disorders Association in Victoria, Australia –  to learn a little more about phenylketonuria (PKU) and how this patient-facing conference plans to help patients and caregivers living with this rare disease.
PKU is caused by a defective gene. When a person with PKU eats foods that contain natural proteins, he or she can incur a dangerous buildup of phenylalanine (an amino acid) in their body. Untreated PKU can lead to developmental delays, depression, tremors, and other disabling symptoms. While there is currently no known cure for PKU, patients utilize strict dietary guidelines to maintain healthy levels of phenylalanine.* This diet can be expensive for families coping with this rare disease.
"The thirst for knowledge and information about global PKU scientific endeavours and potential access to existing, new and emerging therapies, clinical trials and management techniques is high," Monique eplains. "Understanding what progress is being made in these areas and how we as patients can participate in and support these efforts, provides us all with hope for a brighter future."
Indeed, the programming at the 2021 conference will include topics related to nutritional strategies, gene therapy updates, development of new probiotics, and regional anecdotes from the Americas, Asia Pacific region and Europe. The conference is being billed as "an around the world in a day virtual event experience." Speakers include PKU experts from the fields of research, academia and clinical practice. Patients and caregivers will have access to upcoming research and be able to ask the researchers about their projects directly.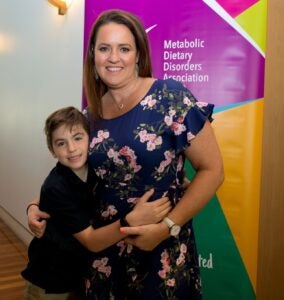 "As a mother of an 11 year-old boy with PKU living in Australia, I am grateful for so many things: Newborn screening, dedicated PKU health clinics, ongoing government support, and access to specialised foods and supplements," Monique says, indicating that not all patients around the world have the same therapeutic resources.
"I started this conference in order to create a platform that brings the PKU patient agenda to the forefront on a global stage, helping to bring to life our vision where all people living with PKU, despite their origin, will be able to reach their full potential. Through holding this conference, I along with my fellow GAP (Global Association for PKU) trustees hope to create a 'patient focused' and globally-connected PKU community where together we can share, learn, support and thrive."
Monique hopes this virtual event will enable patient families to:
Unify the PKU voice globally for broader access to diagnosis, treatment and care
Discover and support new PKU patient support groups
Facilitate greater scientific global PKU collaborations
It's a big job, but we're pretty sure this caregiver can do it!
*https://rarediseases.org/rare-diseases/phenylketonuria/. Accessed September 2, 2021.