Ashley Clarke is an HD caregiver from Northern Ireland. She has served as board member for the Huntington's Disease Association of Northern Ireland (HDANI) and operates the #Imnotdrunk lifestyle blog for members of the HD community. Follow her on Instagram at @imnotdrunklifestyleblog, and Facebook @imnotdrunkblog.
Do you have a rare disease story to share? Contact our news team at shareyourstory@ptcbio.com.
---
Huntington's Disease (HD) entered my life when I was 14 and my dad was diagnosed with HD.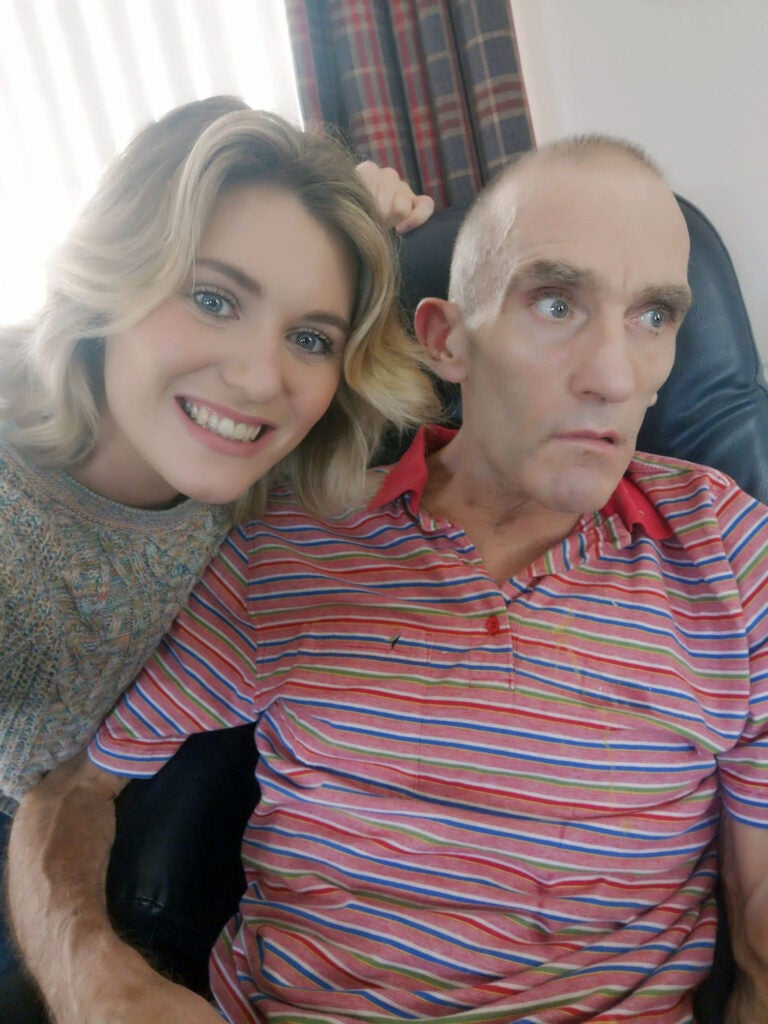 From the age of 17, I was his caregiver: responsible for managing his bills, medication, care and daily tasks along with the help of my brother and Mum. Over the past 14 years, I have learned a lot, hit some rocky parts and made many memories with Dad. It wasn't always easy trying to juggle caring for Dad, attending college and working sometimes up to three jobs – but, somehow, I got through it.
Dad's HD went through many different stages. In the early years, he was angry and took a lot of that out on me. He would argue with me about a lot of things – cleaning the house and the fact I wasn't doing it right, my cooking ability (it's terrible!), and larger things such as big purchases or demanding my time more when I simply didn't have more to give…even if I wanted to. As the years went on, though, he became a big softie and fought with me less and less.
I think the biggest challenge looking after Dad, and the effect it had on me, was the fact that I wanted to make sure he was cared for and got to do what he wanted, but there weren't enough hours in the day. This urge to please and balance everything would result in clinical depression for me. I needed help, and there were very few people there to help me. There was little to no support from professionals, and the professionals I had in my life were accusing me of "not doing enough."
I got in trouble at college for being late or missing class because my dad needed me, and sometimes I got in trouble at work for taking personal calls. I would miss friends' birthdays, weekends away and nights out on the town. I was let down by people who should have been supporting my family.
But I was helped by locals, family, friends and the local HD association, too – sometimes by some of the most surprising people.
If I could change anything of my years of being a young carer, I think it would be the knowledge I had. I wish I had known what was coming. I wish I knew sooner about PEG (percutaneous endoscopic gastrostomy) feeding tubes and other ways to cope. Over the years, I have come into contact with many people in the medical field – occupational therapists, dieticians, social workers, and the list goes on. They didn't always know what Huntington's was, and together we learnt along that way.
Having HD in your life affects every aspect of it. You want to ensure the patient is safe and cared for at all times. I became the parent and Dad became the kid.
I was telling him to put a coat on before going outside, I was helping him dress, wash, shave, eat and most other daily tasks. Honestly, there were times he looked better than I did!
Someone once asked me what it was like being a young carer and my answer was, "Imagine everything you do for yourself in one day. Now turn around and do it all again for someone else."
People think it's just simple: getting the person up and washed, feeding them and getting them back to bed. But it's so much more.
I decided I wanted to do something for caregivers affected by HD. I started the #Imnotdrunk lifestyle blog to help raise awareness for Huntington's. It has grown and, over different social media platforms, there are about 2,000 people who follow the blog.
HD has become my career and some people might think that there is too much HD in my life. But I have learned to balance it. For my dad. For me.