At the end of my first week at PTC, more than seven years ago, our founder and CEO Stu Peltz called me into his office, and said "I never want to lose the feeling we have at PTC."
Our rare disease mission
Passion for patients
Focus on science
Innovation
Perseverance
Care for each other
Being kind and helpful
That's "the feeling" we have at PTC.
Several months later, Stu and I were talking about Lencioni's "The Five Dysfunctions of a Team" – which examines the challenges teams face as they grow. We began executive committee offsite gatherings to focus on being the best team we could be. Culture was always part of the conversation. We were always looking for ways to leverage each other's strengths to meet our mission.
About 18 months later, Stu wrote the PTC Culture Statement to support our global expansion after one of our major scientific successes:
Our culture is to make every day count; to care for each other, our community, and for the needs of our patients; to be critical, not cynical, of what we do, but not of each other; we strive every day to be better than we were the day before; we want to be part of an important cause and strive to achieve great accomplishments. We are more fearful of not daring to do great things than of failing.
The challenge, and one of PTC's strengths, was – and is – to maintain that open, caring, passionate, innovative culture over time.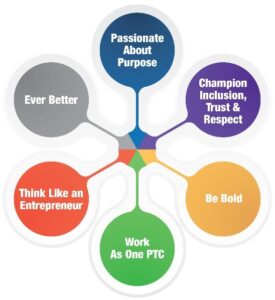 Last year, PTC senior leaders developed the PTC Expectations – which not only focus on how we should work but provide guidance about who we want to be. We looked to Gallup® to optimize our engagement around these  expectations. The CliftonStrengths assessment tool will enable us to move from learning about ourselves, to engaging in dialogues with our leaders, to finding the best way to leverage our strengths each day, and to be (per the PTC expectations) ever better.
To Stu, culture and community at work have always been important. As a champion for this amazing culture, it is also my primary focus. I am proud to help this team never "lose the feeling we have at PTC" as our Chief Culture & Community Officer.
When I look back over my 30+ years of professional experience in human resources, I find I am at my best – leveraging my strengths – when I focus on culture and community. These are mission-critical aspects of any successful organization…especially, an organization doing what seems like the impossible: treating rare diseases.
When each of us is maximizing our strengths, the sky is the limit of what we can do at PTC.