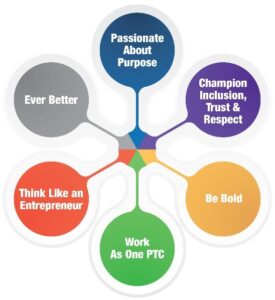 At PTC, we ask our employees to model six expectations that shape every aspect of our work:
We are passionate about our purpose
We champion inclusion, trust and respect
We work as one PTC
We are bold
We think like an entrepreneur
We strive to be ever better
We endeavor to be a team of passionate, caring, brave, ambitious entrepreneurs. We rely on our leaders to set an example of this. One such leader – the person who heads up our human resources (HR) team as Senior Vice President – vibrantly embodies each of these expectations.

Hege Sollie-Zetlmayer joined PTC Therapeutics in 2018 as vice president, human resources for our Europe, Middle East and Africa (EMEA) regions. It quickly became clear that her passion for growing a diverse and talented company was a strong fit for leadership over the HR business partners – who pair with the various teams across our organization – and our talent management program. Recently, Hege was promoted to senior vice president and now spearheads our entire HR function here at PTC.
Born is a small town in Norway, Hege describes her formative years as challenging: "But I survived, and I became very strong and sensitive to my environment from it."
During her high school years, she worked at the local hospital and taught school for younger children. The first big test of her ability to think like an entrepreneur was moving to a remote section of Sweden bordering Norway and Finland. Her task? To learn how to create a tourist destination out of a cold, dark and remote place in the world.
"It takes an entrepreneurial mind to see that as an opportunity," Hege explains. "The plan was to move to Stockholm to continue down the tourist route."
She opted out of that expansion and opted into marriage, moving back home to help her husband run a small family printing company. "Over about 10 years, we built it from a relatively small operation – that mostly produced for the regional market – to the biggest private printing company in North Norway. We established three companies out of the one. We invested heavily and, after a few years, we became a nationwide supplier, positioned to compete with international companies on big tenders.
"Among others, we won a huge tender for UNICEF, producing educational material for African countries," Hege says.
Working with UNICEF, her tendency to be passionate about purpose became apparent. She also expanded her work-as-one team as a champion for inclusion, trust and respect. She became active with Amnesty International and organized several peace concerts in her hometown, with national and international speakers.
When the contract with UNICEF dried up and a financial crises struck in late 1980s, however, it was time to be bold again: "At that time, we had two small children and I was pregnant with the third. We lost everything. I had an open house where people could come and buy whatever they wanted: our furniture, pictures, toys, clothes…you name it. We did this to have enough money to move to Oslo and start over again."
In Oslo, Hege took a job as Office Manager at Baxter A/S. She quickly evolved the office operations for efficiency. Her work earned her a new role as Travel Manager, Europe and she then developed a travel policy for the company. "I negotiated hotels, airlines, rental cars, etc. globally, and launched the new policy in about 19 countries in Europe. It took almost a year and a half to develop, negotiate and implement. At the same time, I handled all HR related issues in the Norwegian office."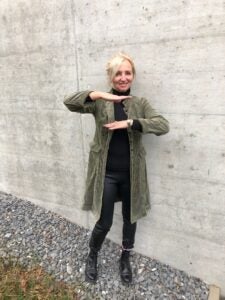 Hege was promoted to Country Manager and proceeded to build a new leadership team and evolve the company's operations over the course of eight years. She also began studying human resources management at the Oslo Business School. She later moved into a role as the head of HR – Nordic region at Baxter with even more leadership responsibility. Hege led the Norwegian Medical Association and became a board member of the pharmaceutical association in Norway – all while raising a family! A champion for women in leadership roles, she now leads the women's leadership initiative at PTC.
Throughout her career as a business manager, HR leader and consultant, Hege has embodied the qualities PTC looks for in our employees. She really is a passionate, inclusive, brave, ambitious entrepreneur.
"I have lived my life like you would write a recipe book," Hege says. "You add ingredients as you need them, and carefully selecting them. My journey has not been one straight path; however, it has always been strategic, entrepreneurial and forward looking. Bringing people with me has been a key."