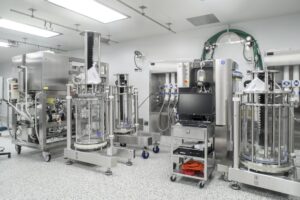 A long-term lease agreement with Bristol-Myers Squibb Company provides us more than 185,000 square feet of space, including an existing state-of-the-art biologics production facility and supporting research and operations buildings on the BMS Hopewell, New Jersey campus. We plan to further develop the biologics facility to support gene therapy production and foster innovation and employment in the community.
"Obtaining this facility allows PTC to execute on our plans of rapidly advancing our gene therapy pipeline. Access to best-in-class technology and highly qualified biologics operation specialists is key for PTC to meet our goal of becoming a leader in gene therapy." – CEO, Stuart Peltz, Ph.D.
In addition, we plan to move our research operations to a newly renovated building on the same campus. These facilities will complement and enhance our existing operations at PTC global headquarters in South Plainfield, N.J.