Approved Medicines
To serve the rare disease community, we've worked tirelessly to produce treatments for multiple rare diseases. We also have a robust pipeline of product candidates to expand our impact on rare diseases and provide more moments for patients and their families.
deflazacort
EMFLAZA®
EMFLAZA® (deflazacort) is approved in the US for the treatment of Duchenne muscular dystrophy in patients 2 years of age and older.
Learn more at www.emflaza.com
For medical information, product complaints, or to report an adverse event, please call 1‑866‑562‑4620.
You may report adverse events to FDA at 1‑800‑FDA‑1088 or www.fda.gov/medwatch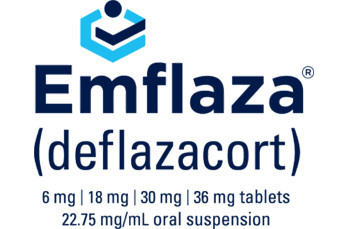 Risdiplam
EVRYSDI®
EVRYSDI® (risdiplam) is a survival motor neuron 2 (SMN2)-directed RNA splicing modifier designed to treat spinal muscular atrophy (SMA) caused by mutations in chromosome 5q that lead to SMN protein deficiency. EVRYSDI is designed to distribute evenly to all parts of the body, including the central nervous system (CNS). EVRYSDI is administered daily at home in liquid form by mouth or feeding tube. The U.S. Food and Drug Administration approved EVRYSDI for the treatment of SMA for adults and children 2 months and older on August 7, 2020 and the European Medicines Agency approved EVRYSDI on March 30, 2021 for the treatment of 5q SMA in patients two months of age and older, with a clinical diagnosis of SMA Type 1, Type 2 or Type 3 or with one to four SMN2 copies. EVRYSDI is marketed in the United States by Genentech, a member of the Roche Group. EVRYSDI is marketed by Roche outside of the United States.
EVRYSDI is a product from the SMA collaboration between PTC, the SMA Foundation, and Roche.
inotersen
TEGSEDI®
TEGSEDI® (inotersen) was granted marketing approval from the Brazilian Health Regulatory Agency (ANVISA) for the treatment of stage 1 or 2 polyneuropathy in adult patients with hereditary transthyretin amyloidosis (hATTR), to delay disease progression and improve quality of life. PTC has licensed the commercialization rights for TEGSEDI (inotersen) in Latin America from Akcea Therapeutics, now Ionis Pharmaceuticals. Ionis will commercialize TEGSEDI (inotersen) outside of Latin American. TEGSEDI is also approved in the United States, Canada and the European Union for the treatment of polyneuropathy of hereditary transthyretin-mediated amyloidosis (hATTR) in adults.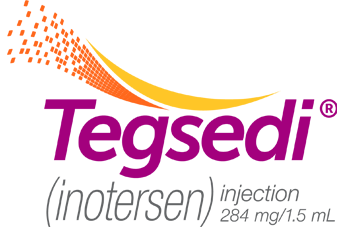 ataluren
TRANSLARNA™
TRANSLARNA™ (ataluren)* has been approved in the European Union and Brazil for ambulatory patients aged 2 years and older with Duchenne muscular dystrophy resulting from a nonsense mutation in the dystrophin gene. *TRANSLARNA is an investigational new drug in the US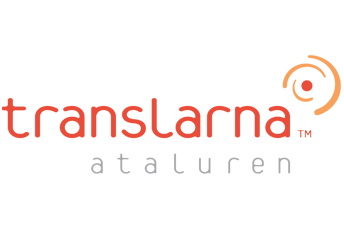 eladocagene exuparvovec
UPSTAZA™
UPSTAZA™ (eladocagene exuparvovec) has been approved in the European Union and Great Britain for the treatment of aromatic L-amino acid decarboxylase (AADC) deficiency for patients 18 months and older.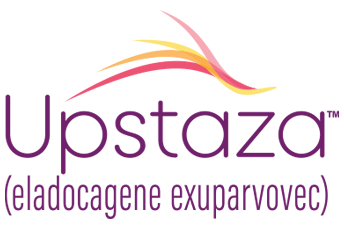 volanesorsen
WAYLIVRA®
PTC has gained the commercialization rights for WAYLIVRA® (volanesorsen) in Latin America. Ionis Pharmaceuticals will commercialize WAYLIVRA outside of Latin America. WAYLIVRA is approved in the European Union for the treatment of familial chylomicronemia syndrome (FCS).