This October, for the second year in a row our PTC colleagues in Switzerland dedicated time to give back to the environment. The team partnered again with Almighty Tree and planted another 100 'more resistant' trees.
Unfortunately, the planting location had been heavily impacted by bark beetle infestations which has a direct link to climate change. The damage is estimated to be larger than 100 football fields. To restore the lost trees, PTC colleagues planted 'more resistant' trees species such as Oak, Maple and Tilia that are stronger to withhold various stress factors. The trees will grow slower but hopefully last longer.
A "happy feeling" amongst the participants following the tree planting confirms the benefits not only to the environment but also the benefit to team spirit and personal well-being.
Tree planting is one way we can contribute towards a sustainable environment, the future of our planet and generations to come. We all care, that's why we do it, tree-planting is a lot of fun too
Alberto Antunes PTC Therapeutics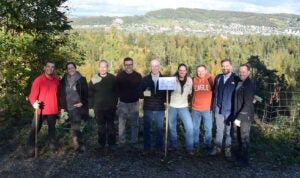 PTC Planting Trees for the Future
We got together and planted 100 Oak trees in 2022 to help combat climate change and prevent biodiversity loss for generations to come.
We are committed to doing our part
Our mission is to collaborate with cross-functional partners and create intentional efforts to connect and engage with employees who want to find community and apply their passion to make a differences both in and out of the workplace.