Last week, we were thrilled to publish the PTC 2022 Corporate Sustainability Report. "Committed to doing our part" is a comprehensive look at our science, support for rare disease patient communities and access to care, our strengths-based learning culture, global equality, diversity and inclusion, efforts to help the environment, and much more.
As a growing global company distributing treatments in more than 50 countries, our focus over the last 25 years has been on bringing more moments to our patients living with rare diseases and their loved ones. Our approach to corporate social responsibility is rooted in our commitment to patient advocacy, access to medicines and advancing science, and focused on five key areas: our patients, our people, our community, our environment and our values. Check out some highlights from this year's report:
Our Patients
A commitment to patient advocacy is a foundational hallmark of our company. Working with patients, families, those affected by rare diseases and non-profit organizations allows our patient relations team to better understand the patient experience and share those insights across PTC throughout the drug discovery and development process.
PTC has partnerships with more than 200 patient advocacy organizations.
We support the patient community through many initiatives, including #DuchenneCan, Screen4Care and Rare Talks: AADC podcast.
We offer programs to help patients, such as Insightful Moments, access to free genetic testing, guidance through the logistical, financial and insurance process for PTC products, and cost-effective solutions for multiple siblings in a family who need access to our medicines.
Our People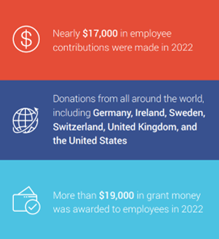 Our collective belief is that the impossible is within reach. This, coupled with our nimble and entrepreneurial spirit, powers our pursuit. For us, changing the course of rare diseases isn't a job, it is our purpose. At PTC, we work as one to make the impossible possible.
We have a 90% retention rate and an employee advancement/promotion rate of 19.63%.
PTC offers a global non-profit charitable fund designed to help employees facing financial hardship with a tax-free grant in their time of need.
We have built a strengths-based culture at PTC and are committed to investing in leading-edge systems that will strengthen and further develop our people both personally and professionally.
Our Community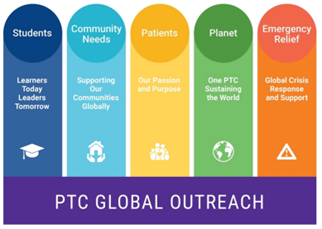 At PTC, we take pride in our collaborative culture. Our Culture & Community team seeks to build strong communities through improved relationships, empathy and the ability to work with people from all walks of life. Our mission is to collaborate with cross-functional partners and create intentional effort to connect and engage with employees who want to find community and apply their passion to make a difference both in and out of the workplace.
The seven Employee Resource Groups (ERGs) and three Business Resource Groups (BRGs) are voluntary, employee-led groups that foster a diverse and inclusive work environment. 56% of our employees participated in events led by these groups in 2022.
Our Global Outreach committee orchestrated company-wide volunteer and giving opportunities across five key pillars: students, community needs, patient, planet and emergency relief.
To date, our Talent Pipeline program has had 53 fellows from around the world complete the program.
Our Environment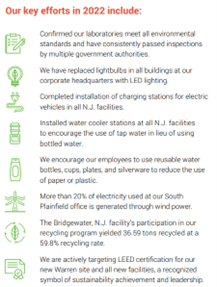 As a science-based company, we understand the impact people have on the environment. We strive to be good citizens of the world and make change for a better planet, whether it's with EV charging stations at our offices or robust energy-efficiency efforts.
We officially formed the Global Environmental team whose mission is to engage in initiatives with local regional teams to make positive impacts on our environment both at work and at home.
We provided a grant to support the Hopewell Watershed Institute, planted trees, repurposed old technology and improved PTC's ongoing recycling efforts in our offices and in our labs.
Our Values
Our global compliance program is designed to enable and facilitate compliance with company policies and the laws and regulations applicable to the pharmaceutical industry.
Check out the full 2022 Corporate Sustainability report