May is Huntington's Disease Awareness Month, and we caught up with Ashley Clarke, an HD caregiver from Northern Ireland, on what this month means to her, how we can best honor HD Awareness Month and her advice for others who are affected by this disease.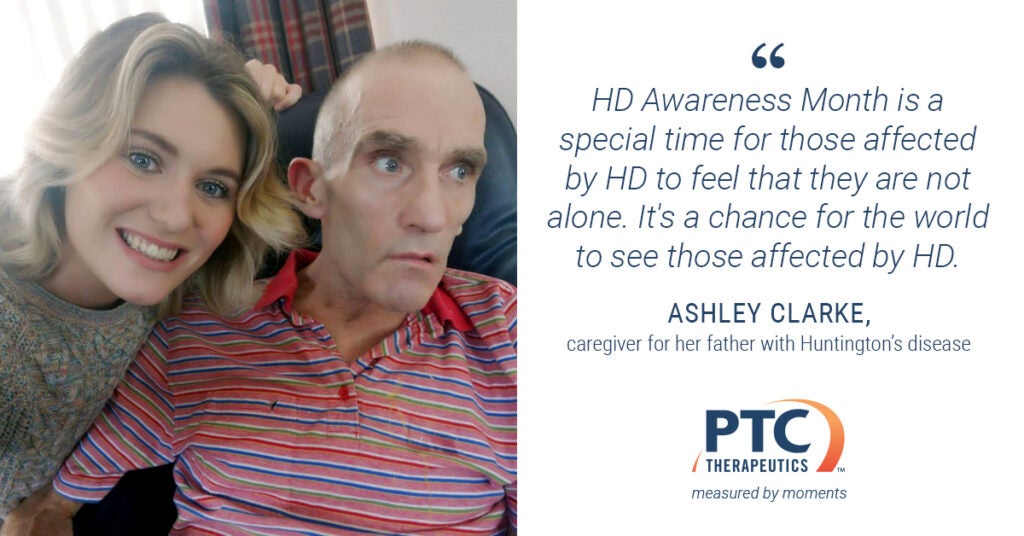 PTC: What does HD Awareness Month mean to you?
Ashley: HD Awareness Month is a time when the community comes together. People who are not normally active on social media share an image or information, and you see people speaking out who have never spoken out before. It's a special month for those affected by HD to feel that they are not alone. It's a chance for the world to see those affected by HD.
PTC: In your opinion, what is the best way for people to acknowledge and honor HD Awareness Month and raise awareness of HD?
Ashley: Talk about Huntington's Disease and do what you can to raise awareness. Buy a t-shirt from your local HD organization and wear it with pride, and when someone asks, explain what HD is. Share a post on Facebook so your friends can see it – although they may not be affected, they may one day encounter a person who is. When that person hears about HD, they will have heard of it before and maybe know a bit about the disease.
 PTC: What would you like to say to others who care for someone with HD or are affected by the disease? Do you have any advice for them?
Ashley: You can do this. You will get through it, and you are not alone! There is a massive community out there to support you, help you and guide you through this. It is scary, and there may be days you don't want to get out of bed, but don't give up! Do what you can to fight HD, because there are so many people out there fighting with you. Talk about HD with family, friends or a professional. Importantly, do what you need to do look after yourself: By looking after yourself, you can look after your loved one to the best of your ability.
PTC: Is there anything else you'd like to share about your experience?
Ashley: As a caregiver for my dad with HD, it has been incredibly hard growing up and having all this extra responsibility. It's scary and sad watching my daddy slip away. But I am proud to be a member of the HD community because they are the most kind, caring, supportive and uplifting community I could ask for, and I'm grateful for them pushing me through this battle.
Read more about Ashley's story as a caregiver for her father, who is living with HD, and join us in raising awareness of HD this month and beyond.
To learn more about our clinical trial for HD, head to clinicaltrials.ptcbio.com