Scott Hilland and Sean McKinney are two very passionate and confident powerchair football athletes playing for the Northern Ireland team at the FIPFA Powerchair Football World Cup 2023. Together the two young men have 19 years of experience on the playing field which will set them and their team up for success. In this interview Scott and Sean share what drew them to the sport and how they plan to prevail at their first World Cup.
Other teams may not be expecting us as a threat but if you give us openings, we will score the goals.
Q: How did you get into Powerchair football?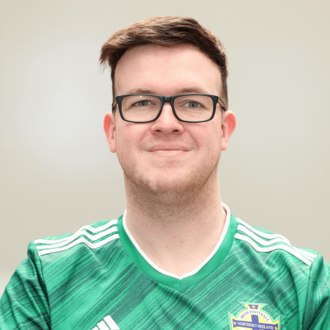 Scott: I am actually one of the founding members of the first club in Northern Ireland. I first saw it online being played in England. I then researched more about the sport and got a club set up from there. I have been playing for 13 years now.
Sean: I started 2017. Before that I tried many different sports to see if I would like one and none of them really suited me. I went to a disability sports open day and the minute I got into the chair, I knew this was the sport for me. I have not played anything else since I started 6 years ago.
Q: What do you enjoy the most about Powerchair football?
Scott: I love football and this is my chance to play football in some form. It's the team spirit I enjoy most, not the competitive spirit. Just the teamwork, being part of the team is great.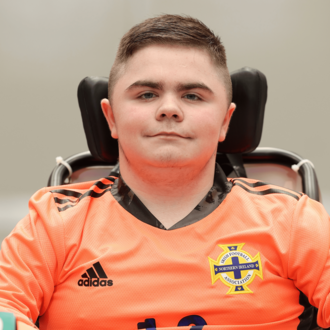 Sean: I just love football as well, and I like being able to play with teammates and play at a really high level. That is what the sport enables people in wheelchairs to do, which is very good.
Q: How has Powerchair football affected your life?
Scott: The difference it's made is immeasurable – it's given me confidence, social skills and leadership. I think my life is a lot different, in a positive way, playing football.
Sean: It's enabled me to meet new friends, because it's very easy to make new friends playing powerchair football.
Q: Which position do you play and what is your unique strength in the team?
Scott: I am the centre position in the team and the captain. My ability to lead and encourage the team, making sure everyone is on the same page and going in one direction, is my strength.
Sean: I am the goalkeeper, and I love it. Because I'm usually the furthest back, I can see the whole pitch and give my teammates direction or point things out that they don't see. And of course, saving shots as well.
Q: What do you think sets your team apart from others?
Scott: For me it's the team spirit. We are a small country and team members have played with each other for so long that when we are out there in the game I know that everyone will have each other's back.
Q: What advice would you give to someone who is interested in playing Powerchair football?
Scott: If you have any interest at all, contact the Wheelchair Football Association (WFA) in England, if you are in Northern Ireland contact the Football Association, find a local club and give it a go. It's life changing if you are willing to commit and give it your all.
Sean: Just give it a go. And what's the worst that can happen? The best could be representing your country, and the worst could be just having fun with other people.
Q: What do you look forward to in the cup?
Scott and Sean: We are well experienced on the European stage but have not yet played against any of the other nations. So that will be a good experience for us and we look forward to showing ourselves to the rest of the world.
Thank you Scott and Sean. Good Luck Northern Ireland!
ATA/DMD/UK/23/0053 I September 2023
You too can support the FIPFA Powerchair Football World Cup