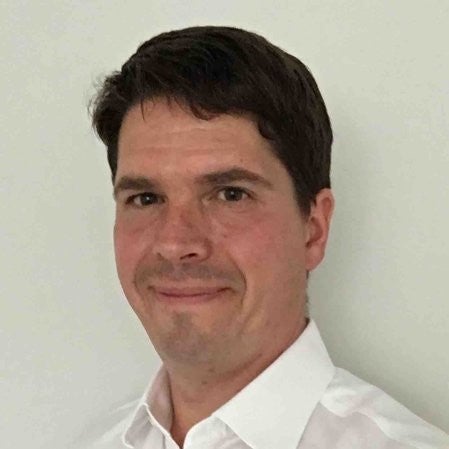 Mark Rance, Senior Director, Clinical Development, PTC Therapeutics, has helped people living with the rare cancer leiomyosarcoma (LMS) in his work as a surgeon, and has seen firsthand the high unmet need for a treatment to improve the quality of life for this community.
LMS is a rare and aggressive cancer found in smooth muscle. Read below to learn more about this rare cancer, and Mark's background working in LMS and his motivation for helping people living with this disease.
Can you tell us more about LMS?
Mark: LMS is a type of soft-tissue sarcoma, referred to as a malignant smooth muscle tumor, which can arise in several locations within the body.1 Soft-tissue sarcomas are heterogeneous, comprising more than 70 histologic subtypes.2 Leiomyosarcoma accounts for approximately 10-20% of all soft tissue sarcomas and affects a variety of organ systems, including the abdomen, retroperitoneum, large blood vessels, gastrointestinal tract and uterus.1,3,4
Leiomyosarcoma often presents as enlarging masses. Symptoms are typically non-specific, caused by displacement of structures in specific parts of the body where the tumor and its metastases are located.5 In retroperitoneal leiomyosarcoma, which accounts for about 50% of all leiomyosarcomas, symptoms may include swelling, pain, weight loss, nausea and vomiting.6
Leiomyosarcoma typically develops when the patient is in their 50s or 60s, although it can be present in children and it can present during any stage of life. Leiomyosarcoma is highly unpredictable and resistant to treatment and can recur in later stages of life. 1
How common is LMS?
Mark: LMS is a rare disease with 1.2 cases per 100,000 person-years.8 Approximately 4,000 patients are diagnosed each year in the U.S.9 Women are at a higher risk for leiomyosarcoma with 2:1 incidence in females compared to males.4
What is your background working in LMS?
Mark: Before joining the biopharmaceutical industry, I worked in the U.K. National Health Service for 10 years. I eventually became a surgeon, specializing in plastic and reconstructive surgery, mostly working in soft tissue, which includes connective tissue (fascia), surrounding tissues, skin, etc. This led me to work with many people living with cancer – including LMS. LMS can arise in several locations within the body. As I began to do surgery to remove the tumors, I became a part of a large team of healthcare providers working on many different aspects of treating a person living with LMS.
The journey for people living with LMS is a tough one. The treatment journey is a burden that involves many consultations and appointments with a large care team, and there is a huge emotional and physical toll. There is a high unmet need for a novel therapy that can improve outcomes, push things forward and ultimately improve quality of life for this community. Remembering the high unmet need for an LMS therapy keeps me motivated. To think that we might have a shot to help these individuals is heartwarming. My purpose in life would be fulfilled if we could help even one more person overcome this disease. I hope we can improve all outcomes for people living with LMS.
Mark Rance Senior Director, Clinical Development, PTC Therapeutics
REFERENCES
1. Singh Z. J Cancer Res Pract 2018;5(1):1–8.
2. Pankova, Valeriya et al. The Extracellular Matrix in Soft Tissue Sarcomas: Pathobiology and Cellular Signalling. Frontiers in cell and developmental biology 2021; 9 763640 doi:10.3389/fcell.2021.763640.
3. National Cancer Institute Center for Cancer Research. Leiomyosarcoma. https://www.cancer.gov/pediatric-adult-rare-tumor/rare-tumors/rare-soft-tissue-tumors/leiomyosarcoma
4. Saluja TS, Iyer J, Singh SK. Leiomyosarcoma: Prognostic outline of a rare head and neck malignancy. In: Ferris R, ed. Oral Oncology. Philadelphia: Elsevier;2019:100–105.
5. George S, Serrano C, Hensley ML, et al. J Clin Oncol 2018;10;36(2):144–150.
6. Golden T, Stout AP. Smooth muscle tumors of the gastrointestinal tract and retroperitoneal tissues. Surg Gynecol Obstet 73:784, 1941.
7. De Saint Aubain Somerhausen N, Fletcher C. Leiomyosarcoma of Soft Tissue in Children: Clinicopathologic analysis of 20 cases. Am J Surg Pathol, 23(7):755, 1999.
8. Toro JR, Travis LB, Wu HJ, et al. Int J Cancer 2006 15;119(12):2922–2930.
9. Ries LAG, Young JL, Keel GE, Eisner MP, Lin YD, Horner M-J (editors). SEER Survival Monograph: Cancer Survival Among Adults: U.S. SEER Program, 1988–2001, Patient and Tumor Characteristics. National Cancer Institute, SEER Program, NIH Pub. No. 07-6215, Bethesda, MD, 2007.