MDA Hellas is a non-profit organization for people with neuromuscular disorders (NMD) in Greece that aims to improve the quality of life of more than 1,500 affected families. As improvements in care are enabling people with Duchenne and other NMDs to live longer, it is more important than ever to work toward improving quality of adult life. Through research, MDA Hellas has found that following loss of ambulation, one of the topics that troubles these individuals is the impact of Duchenne on their intimate relationships and their sexuality. Many have reported feeling disappointed and frustrated when discussing these topics and feel that romantic relationships are unattainable.
With the help of the STRIVE grant, MDA Hellas has been working to produce and premiere a short film that focuses on the sexuality of people living with Duchenne. The organization has formed a focus group of patients with Duchenne to discuss their experiences with the disease and their thoughts on adult living moving forward. The project has given young adults with Duchenne the opportunity to be heard. It will feature first-hand accounts from those living with the disease and be accessible to the global Duchenne community. The film will offer realistic, unique, and much-needed insight into a topic which has long been viewed as taboo.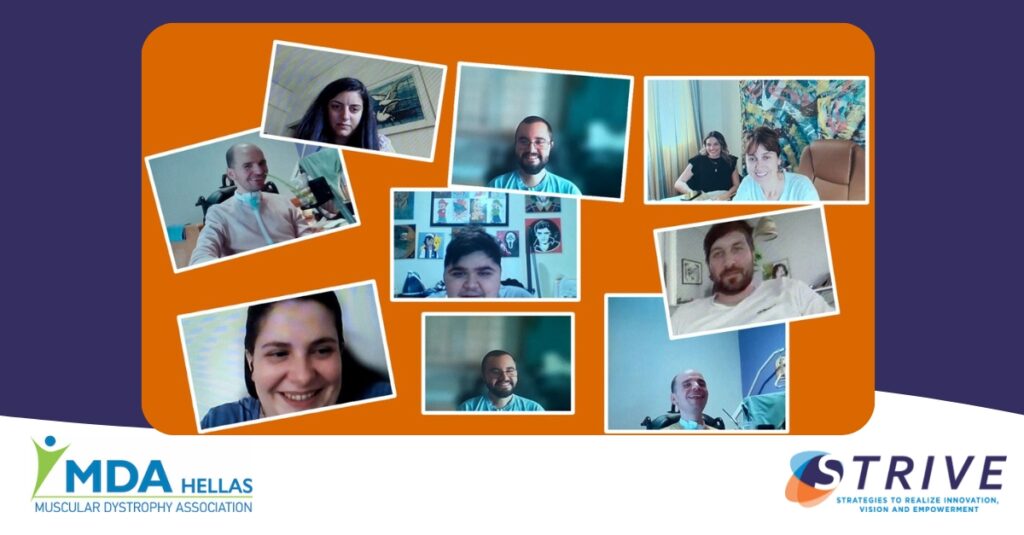 In the next 6 months, MDA Hellas plans to complete the short film and share it broadly with the hope that not only the Duchenne community, but others as well, will understand that when it comes to health, either physical, mental or sexual, nothing should be considered as taboo.