Ron Bartek, Co-founder/President, Friedreich's Ataxia Research Alliance (FARA)
Ron Bartek feels that maybe he and his wife Raychel were meant to establish an organization with a mission to treat and cure Friedreich Ataxia (FA).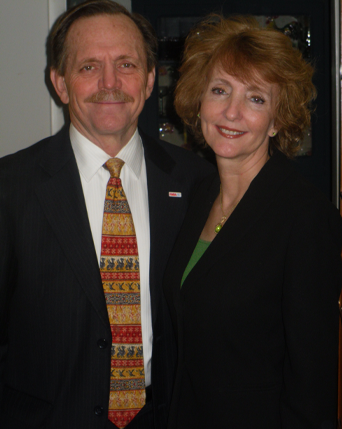 Ron first learned about FA when his son was diagnosed with the rare disease in 1997, after he was showing some signs of physical awkwardness. When Ron and Raychel asked the diagnosing physician what they could do for their little boy, the physician gave them a response no parent wants to hear: There is nothing you can do; there is no treatment.
They went home, heartbroken, and began researching. Soon they learned that FA is a rare, inherited, progressive disease that mainly affects the nervous system and the heart. There was no approved treatment, no active clinical trials and very little research done into the disease. Ron and Raychel did not find evidence of interest from pharmaceutical companies, and there were no advocacy organizations devoted only to the research of FA. This meant that the patients and families were isolated – there was not much help readily available and not much reason for hope. But within all this difficult information they absorbed, they found one positive: the FA gene had been identified the previous year, which gave Ron and Raychel a dose of hope and motivation – and helped them find their purpose.
As Ron and Raychel both worked in Washington, D.C., in the federal government, they felt they were able to take action themselves. In 1998, they created the Friedreich's Ataxia Research Alliance (FARA) with the goal of providing hope to FA patients and their families by bringing those affected by the disease together with scientists, industry partners and government agencies to enact real change. The goal from the beginning was – and continues to be – to treat and cure FA, marshalling and focusing resources and relationships to fund research, raise awareness of the disease and bring all the important players together to make progress and impact.
Since the organization's founding, FARA has permanently changed the FA landscape for the better. By focusing on supporting research into the disease, they have been able to gather the right people to make incredible contributions to the scientific understanding of FA. All of these discoveries helped to advance the study of the disease.
As Ron and Raychel progressed FARA's goals, they learned about a critical step needed to move research into clinical trials: developing clinical outcome measures, which would allow for measuring the effectiveness of an investigational therapy. Not deterred by this momentous project, they got to work, assembling FA patients and clinicians to create and test a series of performance measures in FA patients over time. The resulting data formed the basis of what would become most frequently used primary endpoint. These data also allowed FARA to fund clinical sites using those same endpoints, effectively creating a natural history database of FA, which could then be used to design FA clinical trials. Ron considers this natural history database as a global treasure and one of the five essential assets FARA has developed to provide industry partners with the tools they need to advance clinical trials for a potential FA treatment.
The positive impact is clear: FARA held their eighth international scientific conference on FA in 2022, where they assembled 500 scientists, 17 patient advocacy groups and more than three dozen pharma partners. Six clinical trials are currently underway, and more than a dozen have been completed. PTC therapeutics is one of the companies studying potential treatments in FA and has been collaborating with FARA for many years. FARA has been instrumental in developing the clinical endpoints for PTC's clinical trials and for providing insight on what people with FA are looking for in a treatment.
Ron is incredibly proud of FARA's work – not just in advancing scientific study of FA but also for creating a collaborative and supportive FA community, unified in finding a cure for this rare disease. When it comes to the FA patient and families, Ron says, "We do what we do FOR them and are able to accomplish so much BECAUSE of them."