Kyle Bryant, rideATAXIA Founder and Director
When Kyle Bryant first started riding his recumbent trike, he had no idea he'd end up rallying a community to raise $11 million dollars for Friedreich ataxia (FA) research – he just wanted to make it down the block.
Ultimately what drove Kyle, Director of rideATAXIA at FARA and Cohost of the Two Disabled Dudes podcast, to a recumbent trike in the first place was his FA diagnosis at age 17. FA is a rare and debilitating, progressive genetic disease. The progressive loss of coordination and muscle strength caused by FA leads to muscle incapacitation and the eventual full-time use of a wheelchair. There are currently no approved disease-modifying therapies.
After Kyle's diagnosis, he had to redefine his vision of the future and how he fit into society, as many people with a rare disease must do. He attended the University of California, Davis and left with a degree in Civil Engineering, then worked for five years as an engineer. All the while living with FA and dealing with its unrelenting progression.
Over time, Kyle began losing the ability to participate in the sports he loved: baseball, basketball, golf, skiing. When it came time to give up his upright bicycle, he put his foot down and said, "That's enough. That's enough of losing all these sports and activities that mean so much to me."
In finding a way to keep riding – by using a recumbent trike – he found the way to approach the roadblock that was his FA diagnosis. Kyle loved the freedom that came with riding his recumbent trike, and so he started riding, farther and farther distances, pushing himself to achieve one goal, then another. After completing a century ride – cycling 100 miles in one day – he found his calling: use cycling to empower others and do more for the FA community.
Kyle in turn founded rideATAXIA, and his first initiative was a 2,500-mile bike ride from San Diego to Memphis with his father on a bike and his mother driving their travel trailer. Two years later, Kyle was hired by Friedreich's Ataxia Research Alliance (FARA) as Spokesperson and rideATAXIA Director. Kyle and his FARA teammates built a nation-wide, family friendly series of bike rides for people of all abilities. Since its founding in 2007, rideATAXIA has raised more than $11 million dollars in support of FA research grants.
In addition to acting as director of rideATAXIA, Kyle works with various stakeholders, including peers living with FA, academic investigators, government agencies, other advocacy groups, and industry partners, to educate about FA and build connections with the patient community. In his view, some of the community's key roles are to actively raise funds and participate in research. He also sees tremendous value in impactful partnerships between the patient and research communities – like the partnership between FARA and PTC to find a potential treatment. Kyle advocates for the importance of patient groups working with industry partners, to ensure that patient voices are included and reflected in the drug development process.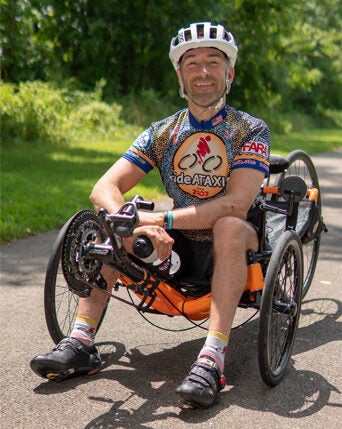 For those of you at PTC, please remember this: when your day feels long and challenging, there is nothing more important you could be doing with your life than creating treatments for people with rare diseases.
Kyle Bryant rideATAXIA Founder and Director
In 2021, Kyle joined PTC at its ribbon cutting ceremony for PTC's Hopewell Gene Therapy Technical Center of Excellence. He shared his inspiring story from that very first bike ride to the national rideATAXIA initiative. Kyle also shared his excitement around the opening of Hopewell, and the hope that the future of gene therapy represents for FA patients and others in the rare disease community.
In the meantime, Kyle keeps cycling and bringing more and more people along for the ride.