Lila is a disability activist and performer living with Duchenne. Through their dynamic theatre performances and powerful advocacy speeches encouraging self-pride and self-expression, Lila is empowering others to accept and embrace who they are.
Lila's childhood began in Kosovo, but they moved to Switzerland as a child, where they were diagnosed with Duchenne muscular dystrophy at 6-years-old. Lila remembers not knowing much about their condition, apart from that fact that they couldn't walk and therefore had to use a wheelchair – which led to many hours spent on their Gameboy, much to the annoyance of the teachers!
Knowing Lila had a passion for computers and art, a teacher encouraged them to learn Photoshop and graphic design, resulting in the opportunity to design the covers for their school magazine. This set Lila up for a career in graphic design. Lila worked for a time at 'création handicap,' a design studio set up by Mathilde Escher, a housing facility in Zurich for those with muscle diseases. Lila is currently a permanent resident at Mathilda Escher.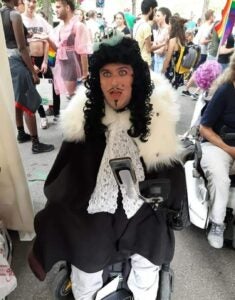 Lila's curiosity for all things creative soon drew them to join a theatre group for people with disabilities. The group has since produced three pieces, two of which explored the themes of disability and Duchenne mothers. The group's third piece was inspired by the film 'Shutter Island' and focused on experiments performed on mental health patients in the 1960s.
Lila's diverse personality is charged with positive energy, and they want to use it to give a voice to underrepresented topics, such as exploring romantic relationships and disability. Having a first-hand experience themselves, Lila feels many disabled people want to experience romantic relationships, but people are afraid to approach them. To further educate others on this topic, Lila has plans of developing a project where these important topics can be discussed. The next performance will be based around parallel identities and universes. And if that wasn't enough to keep Lila busy, they have noticed a gap in the availability of colorful and expressive clothes for people with disabilities, and they hope to produce their own clothing line providing other members of the community more choice!
Lila's motto is, "Be yourself, love who you are, if you love yourself, you can be loved and love others."