"Your child is severely physically disabled" – after giving this kind of diagnosis, physicians are faced with an important task: to give desperate parents some perspective. Impossible? Not at all! Because even with a severe disability, so much is possible – sometimes even a world championship title. Let yourself be inspired.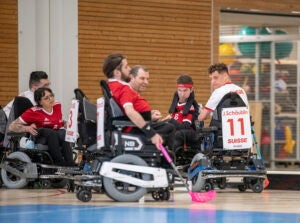 Sport at the highest level
Hockey: Spectacular goal shots and actions by the goalkeeper inspire the audience. The game is fast and dynamic, demanding both physically and in terms of coordination, because an incredible amount happens in a very short time. Hockey is undoubtedly a sport where physical integrity is a must, right? Far from it! Because all the players in the Swiss National Powerchair Hockey Team are in wheelchairs.
Top 3 in the world rankings
Take Dave, Raphi, Noé and Dominik, for example, four active players in the team that propelled Switzerland into 3rd place in the world rankings after an historic win against the Netherlands at the last World Championships.1 In 2022 the World Championships will be held in Switzerland – another chance for the title and a highlight for these four top athletes.
A sport for everyone
For Dominik, Noé, Dave and Raphi, the special attraction of the game lies in the team spirit, dynamics and speed that make up the popular wheelchair sport. And last, but not least, powerchair hockey can also be practised by people with severe disabilities, even if the disease is already far advanced, affecting the physicality of the players. For example, people with degenerative diseases such as Duchenne muscular dystrophy or spinal muscular atrophy also have a long career ahead of them.
Meet the Swiss National Team for the 2022 IWAS Wheelchair Hockey World Cup
While you're playing or training, you forget about the disease. You're perceived as an athlete, not as a wheelchair user.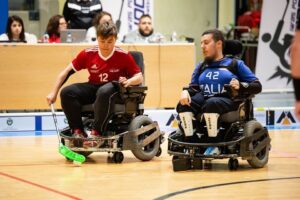 But there are so many other reasons why these successful national players advise other people in wheelchairs to get involved with the sport. Powerchair Hockey is a multifaceted game, which is played by both girls and boys, men and women, gives self-confidence and offers the opportunity to meet new people, exchange ideas with like-minded people and – last but not least – to act as role models.
"What can my child do?" instead of "What can my child not do?"
It doesn't matter if you're in a wheelchair or not. You can be in a national team. Even with disabilities you can play sports professionally – and at the highest level.
Of course, not every physically disabled child will become a world champion. But one thing that the four national players prove quite impressively is that when talking to the parents concerned, the question "What will my child be able to do?" should be just as important as the question "What will my child not be able to do".
Speaking of which, Dominik, Noé, Raphi and Dave would like more reporting about the sport and for it to become more widely known. They also address this wish directly to the physicians treating them: "The sport is great; doctors, families and people with disabilities ought to know this. It brings an awful lot to everyone who does it; you have to tell everyone about it and make it known that this kind of sport exists."
Sources:
1. Swiss Paraplegic Association – TK Powerchair Hockey: National Team (https://www.powerchairhockey.spv.ch/de/nationalteam/)