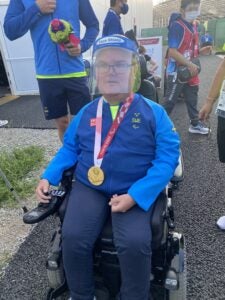 Philip Jönsson is the reigning Paralympic gold medalist in the mixed 10m air rifle standing event and the first person ever with Duchenne to win a gold medal in any event at the Paralympics. We asked him how he prepared for Tokyo 2020, and about his plans to defend his title.
How and when did you take-up shooting? What was it that interested you in the sport?
I started playing soccer when I was 6 years old. However, as I got older, it became more difficult for me to continue playing and eventually the disease forced me into an early retirement from the sport. One day, my father read in the newspaper that Mariestads SG (Mariestads Shooting Club) had a test day for shooting. I went for the test day and have loved shooting ever since. In 2006, I started shooting for Mariestads SG in Sweden.
How did you prepare for the Paralympics, who helped you along the way?
Before the Paralympics, I prepared myself mentally. I made sure that I had all the support I needed to allow me to focus on the shooting. I had support from pulmonologists, cardiologists, physiotherapists among others. Since my disability requires two assistants when I am away from home, it is usually my mum and dad who attend my competitions. My dad is also my charger when I shoot. My sister, relatives, and friends are always supporting me too.
Has the mental training you did for the Paralympics also been useful in everyday life? Do you have any tips you could share with us?
The mental training that I did has helped me in all aspects in my everyday life. I have become a more patient and calmer person. My tip would be to think more positively and focus on solutions instead of problems, then life becomes a lot more fun and joyful.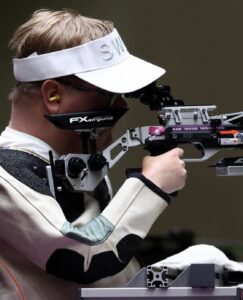 Did you anticipate winning gold at the Paralympics? And setting a new Paralympic record?
I did not expect to win gold at the Paralympics. However, I knew that if I were to shoot at my absolute highest level then there would be an opportunity to win the gold. To be able to win gold and set a new Paralympic record at the same time made it extra fun for me!
You also competed in the Rio 2016 Paralympics, what did you learn from this that helped you win in Tokyo?
I learnt that mental strength is important, especially at major championships where the media is involved. I think this applies to most sports and especially so in shooting where the mental pressure is huge and extremely small margins can separate failure from success.
Could you tell us more about Sweden's Paralympic shooting community?
I met with the Paralympic shooting community quite a few times before the Games. During these meetings, we usually do activities, exchange information, and eat together. As we are a national team, I of course have friends within the team. I think we have good cohesion, which is important even in an individual sport.
What message would you give to other young men with Duchenne who are interested in sport?
Dare to invest in what you want, whether it is a sport or otherwise. Do not be afraid of failures and see them as opportunities to become better. Never give up!
Outside of your shooting career, how do you keep busy in everyday life?
Cooking is a huge passion of mine outside of shooting. I am developing my own spice blends that I hope that I would be able to sell in the future and I also have dreams of being able to start my own restaurant.
Can you share with us one of your favorite recipes?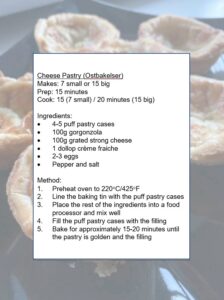 Cheese Pastry (Ostbakelser)
Makes: 7 small or 15 big
Prep: 15 minutes
Cook: 15 (7 small) / 20 minutes (15 big)
Ingredients:
• 4-5 puff pastry cases
• 100g gorgonzola
• 100g grated strong cheese
• 1 dollop crème fraiche
• 2-3 eggs
• Pepper and salt
Method:
1. Preheat oven to 220°C/425°F
2. Line the baking tin with the puff pastry cases
3. Place the rest of the ingredients into a food processor and mix well
4. Fill the puff pastry cases with the filling
5. Bake for approximately 15-20 minutes until the pastry is golden and the filling is set
What are you most proud of?
I am proud of my positive and joyful outlook in life. You should never give up pursuing the life you want to live.
Finally, do you intend to go to the next Paralympics to defend your title?
I do plan to participate in the next Paralympics to defend my title. It will not be an easy journey, however, I have a lot of support systems that could help me attain an achievement like this again.