Join the Global Medical Affairs Team and Advance our Gene Therapy Business
At PTC Therapeutics, our science-driven #OnePTC team combines our strong clinical and scientific expertise with dedication to using groundbreaking science and new technologies to find innovative ways to treat diseases with high unmet need. Our Global Medical Affairs team drives this mission forward – and we're looking for a Global Gene Therapy Lead to help define the medical vision, strategy and tactics to support our exciting Gene Therapy business.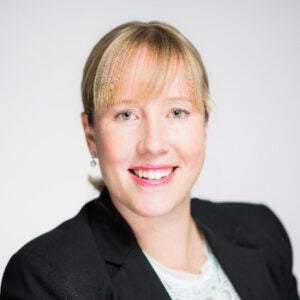 We recently sat down with Kylie O'Keefe, SVP, Global Commercial & Corporate Strategy to discuss the open role for Executive Director, Global Medical Affairs – Global Gene Therapy Lead and what makes PTC a special company.
Can you tell us about the culture at PTC?
Our #onePTC culture is expressed through our dedication to upholding ground-breaking scientific discoveries to develop treatments for people living with rare diseases. At PTC, we have built an engaging and innovative work environment that is driven by science and focused on leveraging emerging technologies to find new ways to treat the underlying causes of these diseases. Everyone who works at PTC understands that the rare disease journey can be filled with ups and downs. Our work at PTC isn't just a job. It's a calling. And that philosophy is reflected in our PTC culture and how we support each other on that journey.
Can you tell us a little about your team?
The Medical Affairs Team is made up of highly professional achievers (based on results of the Gallup® Clifton Strengths program) and works cross-functionally across the organization to align globally and regionally. They are collaborative, friendly and always willing to help. As part of the #OnePTC team, they exemplify living by the PTC Expectations every day.
What exciting plans does PTC Therapeutics have in the pipeline for Gene Therapy?
PTC has a targeted approach to gene therapy focused on rare CNS disorders. It's lead product, PTC-AADC, is under review by the European Medicines Agency for aromatic l-amino acid decarboxylase (AADC) deficiency with a decision expected in the coming months. The team has been preparing for an exciting launch of PTC-AADC in Europe, by educating stakeholders on the disorder, the benefit of treatment, establishing Centers of Excellence and implementing diagnostic programs to facilitate patient identification for this rare disorder. Once PTC-AADC is approved, it will be the first approved gene therapy for AADC-d and will establish the standard of care for this rare disorder. A BLA submission is also planned in the US in the coming months. In addition to AADC-d, PTC has additional products in clinical development for Friedreich ataxia, Angelman syndrome and other targets.
Why are you recruiting for an Exec Director, Global Medical Affairs, Global Gene Therapy Lead?
We need a strong medical leader to drive our gene therapy efforts who will work alongside key stakeholders to educate on AADC (aromatic l-amino acid decarboxylase) deficiency, a rare genetic disorder that affects the brain, and the benefit of treatment.
What can the successful applicant expect to achieve in the role?
In this role, the applicant will be viewed as the medical affairs subject matter expert on gene therapy and is expected to play a key role in educating KOLs, physicians and internal colleagues. This person will
have the opportunity to partner with various functions within Global Medical Affairs and with commercial colleagues to advance the Gene Therapy programs and scientific communications platform. Additionally, the Executive Director will partner with regional colleagues to identify and establish treatment centers and ensure the global vision is enacted at the local level.
What traits or experience do you look for in strong candidates?
A strong candidate will have a Medical (MD), PharmD or PhD degree and a proven track record of successful leadership within a medical affairs department, working from both a strategic and tactical standpoint, and experience supporting the commercialization of a rare disease, orphan or specialized drug. This person can analyze data, synthesize a compelling scientific narrative and distill complex scientific information for various audiences. They can also evaluate scientific literature to support effective medical and communications strategies. This candidate is an expert at building and maintaining relationships with KOLs and have experience working with payors and patient organizations. And finally, this person will be able to work independently and collaboratively with a global, multi-cultural and fast-paced environment.
Does this sound like you? If you're interested in joining PTC, visit PTC's Careers Page, or send your CV to stephen.keane@ptcbio.com