At PTC, we're passionate about supporting those living with rare diseases, even when they live in the most inaccessible parts of the world. Leandro, a PTC colleague in Brazil, plays a key role in educating physicians in remote areas along the Amazon River. He shares information about Duchenne muscular dystrophy (DMD), and has helped make a positive impact on some isolated Duchenne communities.
Across the Amazon rainforest, many people, including indigenous tribes, have limited access to healthcare. Living away from main cities can impact healthcare professionals' access to training and education, including up-to-date information about rare diseases. This means many patients living with rare, genetic diseases like Duchenne can experience delays in diagnosis and access to treatments – limiting their quality of life and potential life expectancy.
"It was my mission to make sure that Duchenne patients living in the Amazon do not get left behind." – Leandro Vilar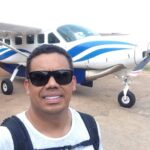 Over the course of seven years, Leandro has traveled through the Amazon by car, plane and boat, reaching remote and underserved communities to deliver Duchenne educational programs to physicians. He has been able to raise awareness of rare disease among more than 300 physicians who have been able to advance their understanding of DMD diagnosis and disease management.
Because of Leandro's dedication to reaching remote communities, boys and young men with Duchenne in the Amazon CAN gain access to the care they need and, in turn, plan for their futures.