"We were determined to support physicians who are at the forefront of Duchenne diagnosis and fulfill our mission of giving families the special moments they deserve." – Edouard and Patricio, PTC MEA Team
Despite being the 12th largest country in the world, Saudi Arabia lacks experienced physicians and medical centers that specialize in the diagnosis and treatment of certain rare diseases. Access is especially challenging in remote areas of the country, leading to inaccurate or delayed diagnosis of patients suffering from neuromuscular disorders, including Duchenne muscular dystrophy.
Using insights gathered from PTC's two decades in rare disease drug development, the PTC Middle East and Africa (MEA) team aimed to overcome these challenges by rolling-out the first Neuromuscular Disorder Awareness Series meeting in the country. With the support of five renowned neuromuscular specialists, the team travelled the country – from Riyadh to Al-Khobar in the east, to Tabuk near the Jordanian border – to help educate, upskill and provide support to physicians in the accurate diagnosis of patients with neuromuscular disorders.
When the COVID-19 pandemic began, the team quickly transitioned the program to an online format – helping them project even farther into the most remote parts of the country. To date, the team has reached more than 1,000 physicians, and aims to continue their meeting series throughout 2021, digitally and in-person whenever possible .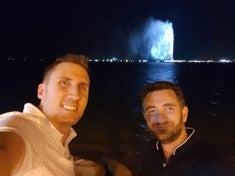 We're inspired by the PTC MEA team and their ongoing determination to make a difference to patients. Their work means that children living with Duchenne CAN receive a correct and timely diagnosis, as well as access necessary care.