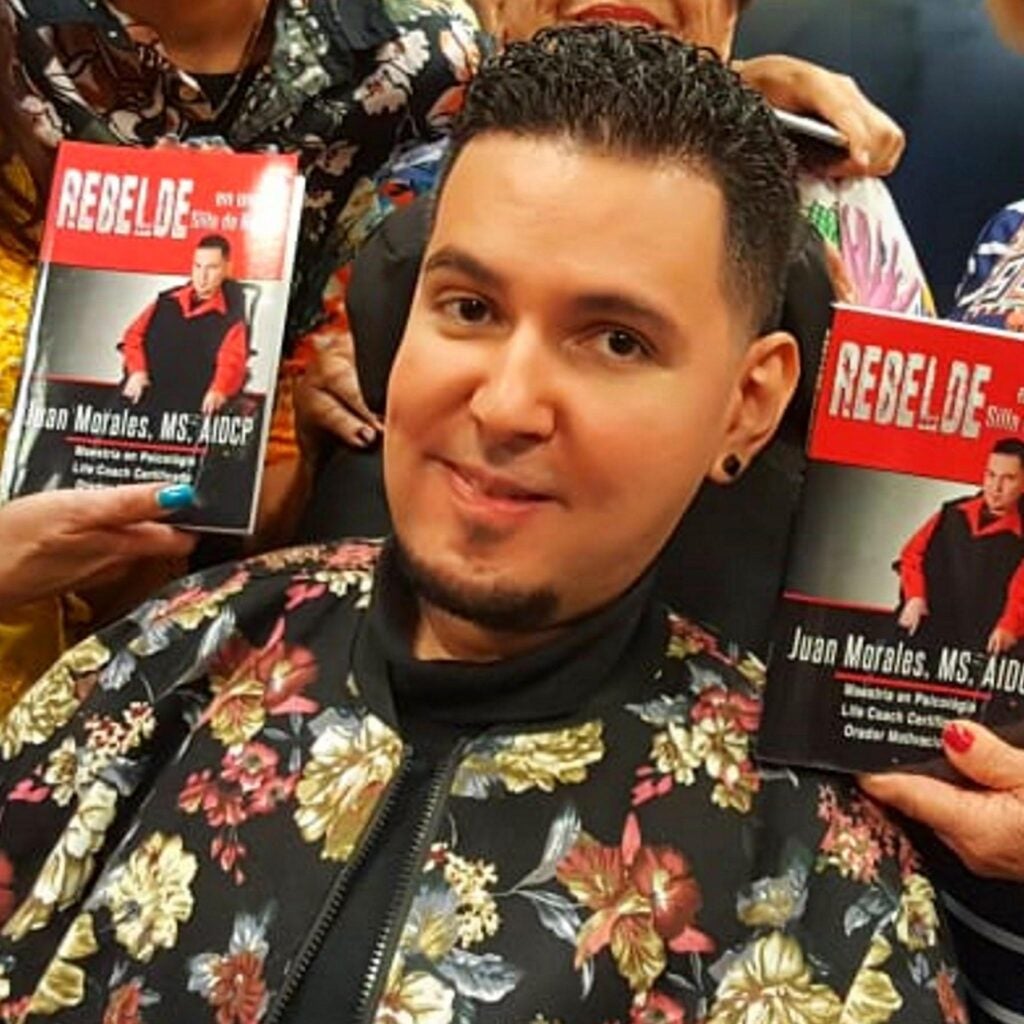 At 39 years old, there's not much that Juan Morales hasn't already achieved. Despite living with spinal muscular atrophy (SMA), a severe, genetic motoneuron disease causing muscle weakness and wasting, Juan's own determination has led him to transform his life to find purpose. From writing an autobiographical book on personal development, advocating for people with muscular dystrophies and becoming a therapist, life coach and motivational speaker, Juan's rollercoaster journey from rebellious teen to a self-assured successful adult means he is a recognized role model within the Duchenne community and beyond.
As author to his autobiography, "REBEL in a wheelchair," Juan's life has been anything but simple. Born in Paterson, NJ, Juan was 2.5 years old when he was diagnosed with SMA. After being told he was unlikely to live past the age of 5, his parents vowed to make every day positive. Despite living longer than his doctor's estimations, 12-year-old Juan's enthusiasm for life was crumbled after a physician told him to live out the remainder of his life on his computer. Juan was left in shock – and spent many of his own teenage years rebelling against school and authority as a way of coping with his own condition and diagnosis.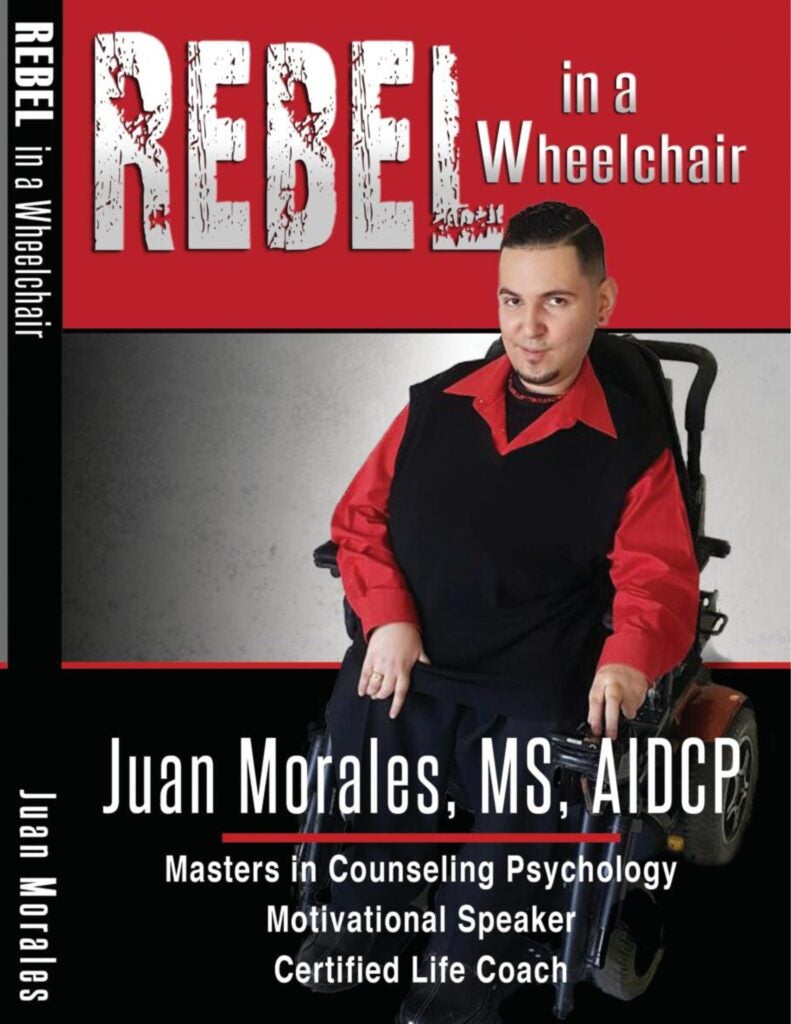 Juan's life reached a turning point when, as a teenager, he got in trouble with the law. Often describing this as a "light bulb moment," Juan drew on the strength and unconditional love from his parents and decided that he would dedicate the rest of his life to creating a positive impact in the wider community. Juan has coined this poignant life change as his transition from "rebel without a cause" to a "rebel with a cause," which also inspired the name behind his book, "REBEL in a wheelchair," available on Amazon (see link below). Detailing his ultimate journey to self-acceptance, independence and self-assurance, Juan's main message in the book is to showcase that, "Anything is achievable, despite your initial circumstances or condition."
After seeking a therapist after his troubled phase, Juan's life was transformed, and he knew that he had found a skill he could bring to the wider muscular dystrophy community. Motivated by his newfound purpose in life, after completing his probation, Juan went onto to receive a Master's degree in counseling psychology and trained as a therapist. Years later, Juan continues to help a growing number of young men from the Duchenne community improve their independence and confidence. He does this through role playing social interactions and encouraging their confidence to grow in real-world settings. Juan is vocal in the fact that stereotypes often surround people with disabilities, but is confident this can change… "I often find people with physical disabilities are ringfenced into being shy or timid individuals, but I want to prove this isn't the case. You can be independent and drive a car, and you can go and hang out with your friends – your disability should not stop you living an independent life." Juan's advice for young adolescents with Duchenne is to look for ways to become independent, where possible. He is also a firm believer that there is power in your ability to make your own decisions.
Juan also works with Regis House, a non-profit organization supporting at-risk teenagers who have previously been in trouble with the law by helping them find a purpose. Juan has worked with the organization for over a decade and has provided 13 week long therapy programs for countless individuals, groups of young people and their families.
And, if a bestselling book and Master's degree wasn't enough, Juan is also closely involved in the wider muscular dystrophy community, such as Duchenne webinar sessions, as well as connecting patients, caregivers, parents and physicians within the Duchenne community. Available in both Spanish and English, the sessions cover a range of topics including mental health, access to higher education and support for parents of children living with Duchenne, fittingly titled, "Don't baby me!"
Outside of his more traditional advocacy work, Juan combined his love of music and motivational speaking and often incorporates uplifting raps into his work with the Duchenne and Regis House community. Juan was also involved in the Muscular Dystrophy Association (MDA) Muscle Walk, an inspiring event that unites members of the Duchenne community and even composed and rapped a song for the Muscle Walk titled, "I'm a Do It My Way!" Juan explains the lyrics are "aimed to take an active stance against the condition and encouraging us to fight for a cure." You can watch Juan's debut here. But, despite living a go-getter lifestyle, Juan also highlights the importance of taking time to prioritize mental wellbeing by relaxing and recharging.
Despite living with SMA and its challenges, what keeps me and those around me strong is attaching my life to a purpose; purpose is what keeps the world moving – and your heart pumping, too!
To connect with Juan, visit his LinkedIn page.
Book 'Rebel in a Wheelchair' can be found on Amazon