Kelly Heger, RN, Founder of the AADC Family Network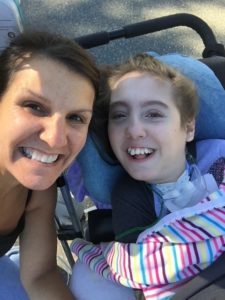 Kelly Heger became a nurse because of her daughter, Jillian.
When Jillian was a baby, Kelly and her husband, Bruce, knew something was wrong. She had a very low temperature, and soon she began experiencing what is called an oculogyric crisis; Jillian's eyes would roll upward and her neck would forcefully turn to one side while her back arched and her body stiffened. She struggled to breathe. These OGC crisis occurred every other day late in the afternoon and would last for hours into the night. However, Kelly noticed Jillian to otherwise feel "floppy" in her arms.
After a few months of noticing these troubling signs, Kelly and Bruce took Jillian to the emergency room. In an incredible coincidence, the doctor on call that day had diagnosed the first case of the rare disease aromatic l-amino acid decarboxylase (AADC) deficiency in the United States only two months earlier. It was then that Bruce and Kelly learned Jillian had this disease – she was the fourth child in the world to be diagnosed with AADC deficiency.
AADC deficiency is a rare genetic disorder that affects the brain. It interferes with the way the cells in the nervous system talk to each other through a person's neurotransmitters. In AADC deficiency, a genetic mutation leads to a decrease in the amount of neurotransmitters made by the body.
It almost felt like a relief to Kelly and Bruce to finally have a name for the condition that affected their daughter. But as they began to settle into their "new normal" of caring for Jillian 24/7, it became more and more challenging to navigate the complicated information, care, and conversations with physicians. Kelly became determined to keep up, to better understand this new influx of medical terminology and communicate effectively with Jillian's doctors – and so, she started attending nursing school. Balancing school, raising a young family and care for Jillian was difficult, but after seven years, she completed her degree and became a Registered Nurse.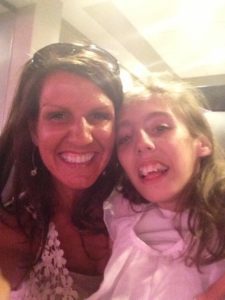 Further, in 1998, Kelly and Bruce founded the AADC Family Network, the first foundation ever created for AADC deficiency, to support the AADC deficiency community. The organization connects families with loved ones who have the disease and shares resources and support. They also fund research efforts with the goal of developing treatments and ensuring access to treatments for those living with the disease. The AADC Family Network funded the first in vivo model to better understand the disease and to find new treatments, and funded the first database focused on collecting information on signs and symptoms as it relates to severity of illness.
Through her work with the AADC Family Network, Kelly has greatly contributed to raising awareness of this condition in the broader rare disease community. Together with PTC, MassBio and Boston Children's Hospital, the AADC Family Network spearheaded the declaration of the first AADC Deficiency Awareness Day in the State of Massachusetts, United States on October 23, 2020. Now an official day celebrated every year since then, the official designation helps enable parents and caregivers, patient advocacy groups, legislators and gene therapy experts to raise awareness, share resources and work together toward treatments.
While Jillian is unlikely to benefit medically from any future gene therapy innovation, Kelly has become a pioneering advocate for AADC deficiency awareness and leading voice in the community. Kelly's determination, resourcefulness, steadfastness and caring spirit is nothing short of inspiring – not just for the AADC deficiency community but for all those affected by a rare disease.