Luke Millington, Patient Engagement Specialist, PTC
Luke Millington applied for an internship with PTC Therapeutics because he wanted to experience what it was like to work for a multinational company.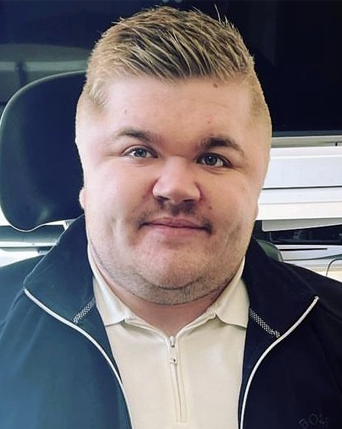 He heard about PTC when his doctor mentioned their internship program was looking for applicants. After learning that PTC was a biopharmaceutical company focused on rare diseases, it seemed like it would be the perfect challenge. Luke has Duchenne muscular dystrophy (DMD), and he thought: maybe his experiences living with DMD, a rare disease, could support the company's engagement with other people living with a rare disease.
So, he applied, and soon joined PTC as part of the Talent Pipeline Program (TPP), a one-year, immersive, global fellowship aimed at providing recent graduates real-world experience in the biopharmaceutical industry and related professions.
The program, from Luke's perspective, was exceptionally supportive and successful. His TPP "class," the first of its kind at PTC, gave Luke an in-depth understanding of the key roles each department plays within a biopharmaceutical company. He learned important skills, made lasting connections and worked on important projects. But mostly, it gave Luke the opportunity to work alongside a team of people focused on achieving one goal: improving the lives of those living with a rare disease.
Luke is now a full-time employee on the Patient Engagement team, working with patient advocacy groups to learn from them and in turn to provide support for patients and caregivers at every stage of the rare disease journey. His main project involves creating resources aimed at making the transition process from childhood DMD care to adult care easier for families.
This incredibly important topic is somewhat new in the DMD community and broader rare disease communities – as medical advancements and treatments continue to improve long-term outcomes for patients, many are now looking to a future filled with the possibilities of independence, jobs and more. Luke and the team just want to make the whole process easier for families now faced with new decisions, questions and paths.
The reaction from the advocacy community to this project so far has been positive – and Luke has seen this first-hand through his interactions with the patient groups. In his time at PTC, he's had the opportunity to speak at a number of advocacy conferences to discuss the transition project. Speaking in front of people, in person, in his wheelchair was something he might have never done in the past, but his team encouraged Luke and helped him build his confidence to do so. He considers this the achievement he is most proud of in his time at PTC.
Luke aspires to continue progressing in his role on the Patient Engagement team, helping patients understand their condition and contributing to a company he feels is there for patients. He also hopes to see even more treatment advancements in the future.
Luke's initial thought about joining PTC turned out to be right: his experience living with DMD gives him unique perspectives and insights for his work on the Patient Engagement team. He hopes that being in this role can encourage others with his condition to see new paths in their futures, too.