Powerchair Hockey is a team sport for people with physical disabilities who require a wheelchair to practice sport. The game is fast paced and intense…with two teams of five players battling against each other to score the most goals and win! The game prides itself on being very inclusive, with a team comprised of varying levels of ability and strength, genders and age groups. Powerchair Hockey caters for players who can hold a stick, and players who have a stick attached to their wheelchair – making the game as physically thrilling as it is strategic.
Alexander Ibsen and Tim Pederson are two incredible athletes playing for the Danish Powerchair Hockey team, and gold medal winners at the 2022 IWAS Powerchair Hockey World championship held in Switzerland. Both Alexander and Tim have Duchenne Muscular Dystrophy (DMD) and therefore require a wheelchair to move around and play sport. Although physically challenging, their condition has never got in the way of their love of sport and physical activity, and both have been playing sports – on and off the hockey field – for the majority of their lives.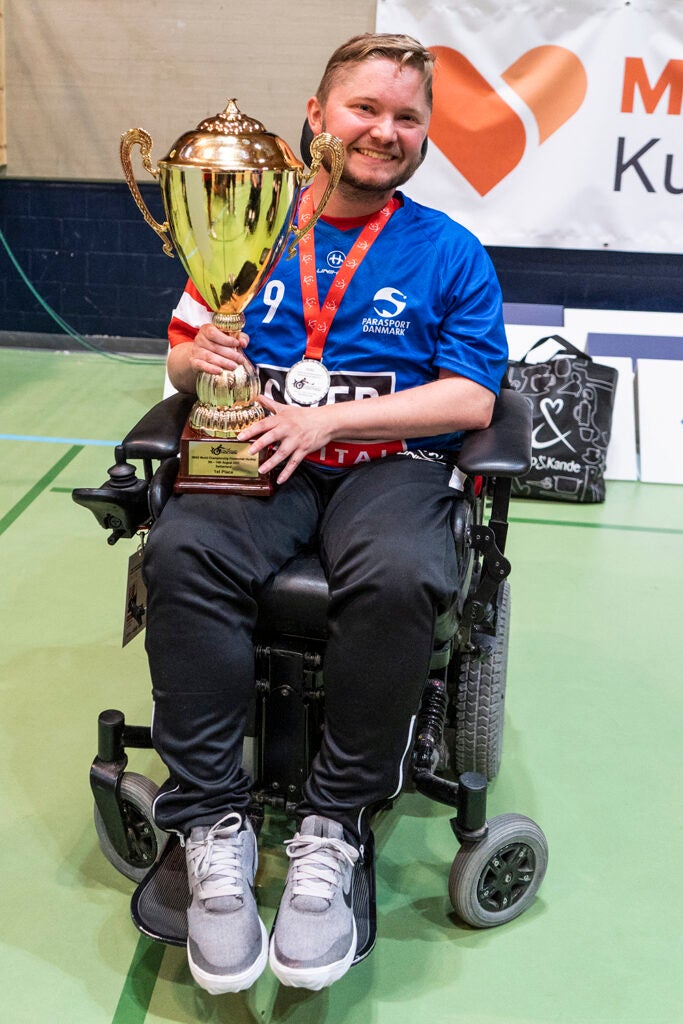 Alexander found his love for Powerchair Hockey 16 years ago. Initially also playing Volt Hockey (very similar to Powerchair hockey in nature, but played on a smaller field), he made the transition to focus on playing Powerchair Hockey 6 years ago and has been sharing his passion for the game ever since. Alexander is particularly grateful that his parents encouraged him to take part in sports from a young age. He values the positive effect that playing team-sports has had on him throughout his life. On top of to busy sporting schedule, Alexander has a full-time career in IT and has delved into the world of advocacy, working with leading Muscular Dystrophy charities. Fueled by his experience in the workplace and the subsequent positive effect on his mental health and wellbeing, Alexander works with charities to encourage other employers to hire more candidates with disabilities. A strong champion for never letting his condition stop him from achieving his goals, Alexander is a firm believer that "Disability can be a strength".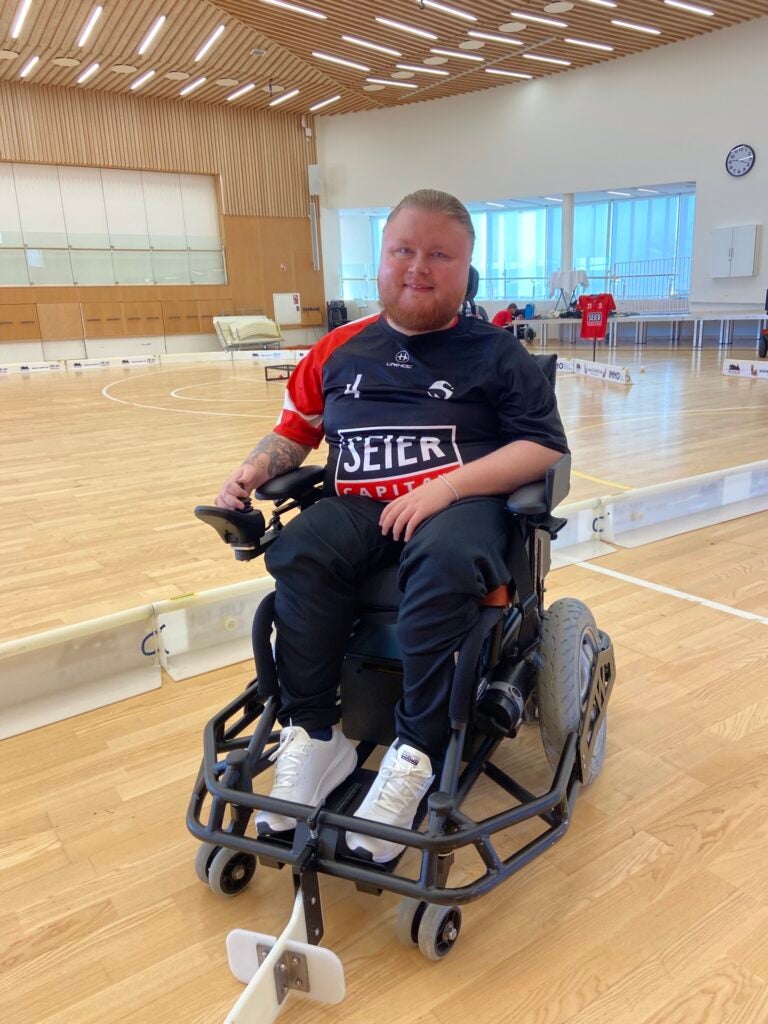 After 20 years of Volt-Hockey (a variation of Powerchair Hockey in smaller wooden chairs), Tim took the plunge and delved into the world of Powerchair Hockey just two years ago. Initially, Tim confesses he didn't really enjoy playing the game due to a painful and rigid wheelchair, but he stuck with it and now enjoys playing regularly. These doubts are very common among first-time Powerchair Hockey players, but Tim's success on the field is a testament to other players to not give up. He once used to dream about playing for the Danish national team, and that dream became a reality this year! A self-confessed sports enthusiast, Tim is also a regular at the gym, and has transformed his Instagram to a hub of health-focused living. From offering bespoke coaching, to nutritional healthy eating plans, Tim has drawn his inspiration from his own experiences and believes exercise and nutrition has led to a big difference on his outlook on life. Tim expresses that his main passion in life is to help as many people as possible to take nutrition seriously. On top of all this, he also works part time and has a busy social life.
Alexander and Tim are both passionate about promoting the positive effects of sport in the community and regularly coach sessions which encourage more adolescents to get involved with sport. As the popularity of video and computer games takes over, fewer young people are willing to get involved and get active, a problem that is particularly affecting the disabled community. Alexander and Tim have made it their mission to change this, "we encourage people to join with a friend and give it a go, you may find it challenging at first but you won't ever regret trying".
The beauty of Powerchair Hockey is its built around being very inclusive, it encourages all levels of physical ability, disabilities and gender to play
When asked what they enjoy the most about the sport, they described it as; team spirit, creating memories together, having fun, intensity and freedom.
Alexander and Tim are now setting their sights on placing first at the next European Championship in their home country of Denmark. Attributing last year's win to their CAN-do attitude, team spirit, and rigorous training, we can't wait to watch them both back on the pitch in 2024!
To connect with Tim on Instagram look for tim_fit24_by_handi.