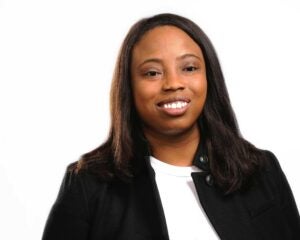 Alethia Young's journey to become a PTC Board Member began with a reverence for doctors. When she was young, her grandfather had glioblastoma, which resulted in long stints in the hospital. It was during this time that she began to idolize the doctors and nurses caring for her grandfather, and decided she wanted to become a doctor herself. In the end, her academic path led her to economics, which opened the door to finance – and she found that she could tap into her love of science by covering companies that focused on healthcare.
Earlier this month, we were excited to announce Alethia's appointment to PTC's Board of Directors. We sat down with her to learn more about the journey that brought her here, what she's most looking forward to in her new role, and her advice for women looking to pursue a career in healthcare.
---
PTC: What made you want to join the PTC board and be more involved in the company?
Alethia: In my work, I had a lot of time to spend looking at companies and getting to know them. I picked up coverage as an analyst of PTC in 2013 and was drawn to the company immediately. The PTC story doesn't get enough credit where credit is due – there are interesting assets in-house like Bio-E, and there is strong a commercial aspect but also a deep pipeline that could be transformative in the not-so-distant future.
I have also known the management team for a long time – they are people I care about and respect. I love the people at PTC, the culture, and what they stand for. I felt I could help the company succeed and that I could have an impact. It's all about doing the things you want to do, with the people you want to do them with!
PTC has a promising, diversified pipeline, and many of the scientific platforms hold great potential to develop treatments for the most devastating rare diseases. I am excited to join PTC's Board and look forward to leveraging my background in healthcare and biotech research and investing to help the company deliver on its mission to bring innovative therapies to patients living with rare diseases.
PTC: What are you most excited about and looking forward to as a new PTC board member?
Alethia: I am most excited about getting in the trenches, sharing ideas, and getting to know the company in a different way. It gives me the opportunity to learn about things happening at PTC and be able to opine before things happen. I can partner with the team, push the science, and push the envelope.
PTC: What do you hope to achieve as a board member for PTC?
Alethia: I think this science is underappreciated, and I hope to change that. I want to make sure the public and investing public really understand what PTC is doing and help to craft the storyline. We need to remind people of the scientific platforms and what this company can do. PTC also has such a strong culture of inclusion and equality, and we need to share that. I want to help people see PTC the way I see them. I hope it speaks volumes that this is the first board I joined.
PTC: What advice do you have for women who are looking for a career in healthcare?
Alethia: One has to truly believe in themselves that anything is possible if you apply yourself. As a woman working in certain fields, there is always sacrifice and tradeoffs in how to manage personal and professional life. You can have it all, but it takes a lot of management to have the things you want professionally and personally. I would have told my younger self to manage my personal life differently, because it's about the time you spend with people: being deliberate about the time you have and who you spend time with.
In male dominated industries, it's up to all of us to push the boundaries to change the makeup. It's not an easy road and people need help. It's the responsibility of people in leadership to mentor people and pull them along. But we can make science and finance look differently.
PTC: Can you share a fun fact about yourself?
Alethia: I have two dogs, and I am kind of obsessed with soul cycle! I do about twelve classes a week, and love that I have such a strong community of people and friends.
We're thrilled to welcome Alethia to PTC's Board of Directors and look forward to all that's to come as we partner with Alethia in the future!