Overcoming adversity means to turn a particular challenge you are facing into a way to better yourself. It's the process of turning an obstacle into a way to strengthen your character.
Elijah
Elijah, from California, refuses to let Duchenne muscular dystrophy define him and his future.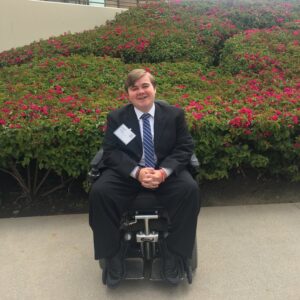 When Elijah was only 15 years-old, he founded Destroy Duchenne, a non-profit organization that aims to "complete the cure" for Duchenne by advancing gene-editing and gene therapy technologies into human practice. His driving force is to not only bring hope to thousands of people affected by Duchenne around the globe, but also to lead the way for his younger brother Kai, who also has this rare disorder.
But that's not all he has achieved! When he was still in high school Elijah became an intern at the local district attorney's office, through a program intended for college students. During this internship, he took part in a mock-trial and worked closely with lawyers as coaches, who he would later turn to obtain advice about setting up his organization. Determined to educate others on Duchenne, Elijah is also working on a variety of projects that he hopes will raise the visibility of the condition and empower others to use their situation to help future generations.
Elijah has never let Duchenne hold him back from the action. Sports have always been a massive part of his life and he is still very active in sports in all the ways he CAN be. He uses other people's negative energy and doubts as the ultimate motivation; and he knows showing people that they CAN overcome their barriers is helpful.
Elijah's #DuchenneCan message to others living with Duchenne is to "go and be great; don't see yourself as different."
"No matter how big or small your suffering is, don't let it go unused, but use it to empower others and to help minimize the suffering that the future generations will face."
Elijah's positivity and commitment to improving the lives of those within the Duchenne community inspires us. He continues to strive for a better future for people living with Duchenne and demonstrates that people living with rare disease CAN turn obstacles into opportunities.
Connect with Elijah: