This October, the Republic of Ireland team will be competing at the FIPFA Powerchair Football World Cup 2023 in Australia. Equipped with good ball shooting skills, leadership, strong team spirit and competitiveness, Ireland's diverse team is well positioned to "close the gap in the top 3". PTC had the great pleasure to witness this firsthand at a training session this September and hear directly from the team members. Read below.
"We have a good track record of producing good quality players," says Jerry Sheehan, team manager.
Meet Aoife McNicholl
Alternating between wing and center position in the team, Aoife is the only squad member to compete in three world cups.
Q: How did you get into Powerchair football? I first tried it out at a Muscular Dystrophy Ireland event, they introduced the sport here in Republic of Ireland. I went along, "gave it a go" and loved it ever since. I have been playing for 20 years now.
Q: How has Powerchair football affected your life? It's been massive, firstly in terms of sport – it is the only sport I can play competitively due to my disability. Aside from that it's made a huge impact socially, being able to meet people all over the world, making friends in Ireland and across the world. And just from a confidence perspective and leadership skills – you gain so many skills playing the sports that you can bring into other aspects of your life.
Q: Your best football moment? Best moment for me was in the last European Championships in 2019 in Finland, we finished 3rd. It was our first ever medal finish at an international tournament. We were 1:0 down – we scored in the last minute of the game and then scored again in the last 30sec of extra time to win 2:1.
Q: What do you look forward to in the Powerchair Football World Cup? We are hoping to build on our success at the European championships and get to the semi-finals at the world cup.
Meet Matt Crowley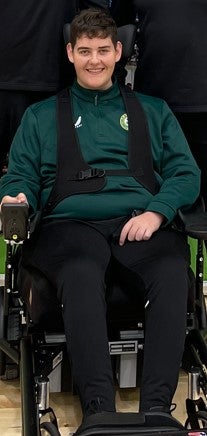 Just 16 years of age, Matt is the youngest team member playing the center position. Australia will be Matt's first world cup competition.
Q: How did you get into Powerchair football? A family friend was involved in Powerchair football and so I went to trials, and it all started from there.
Q: What do you like most about Powerchair football? I just like being able to compete like my siblings who all play sports.
Q: Your best football moment? A few weeks ago, we went to England for a friendly game, I scored a goal and we won against them for the first time. That was pretty special.
Q: What do you expect at the World Cup? A medal of course or at least top 4 position.
Meet Thomas Donogher
The captain of the team whose leadership skills will serve as a powerful advantage at the world cup.
Q: How did you get into Powerchair football? I found out from a physiotherapist about the sport and then I went for a training session and have been playing ever since.
Q: How would you describe yourself as a player? Good at passing the ball, good at shooting and leading the team. I find I thrive the most under pressure, at bigger competitions and matches.
Q: Your best football moment? Scoring a goal in Finland at the last European Nations Cup (EPFA) in 2019. We came 3rd (out of 10) winning a Bronze medal.
Q: What do you look forward to in the Powerchair Football World Cup? The competition, playing against the best teams in the world.
Meet Donal Byrne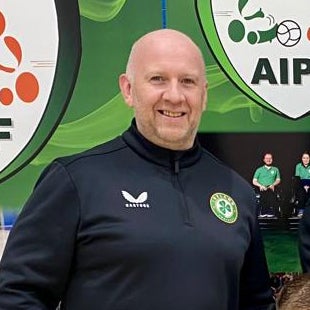 Team secretary and coordinator driving the growth of the sport in Ireland for more than a decade.
Q: How did you become a coach and why? I got involved through my work. I worked in the disability area and it just happened that where I work, the local sports partnership were introducing Powerchair Football at the time. Some of the people, including myself, went along for an introduction program and stayed. That was nearly 12 years ago.
Q: What do you think makes the Powerchair football sport so special? The sport is dynamic, fast, it gives people with disabilities, who watch and love football but never thought they could play, an opportunity to participate. And there is so much more to the social side – when they get into the team unit, it just brings everything out in them.
Q: What do you hope to achieve at the Powerchair Football World Cup in Australia? We are trying to close the gap on the top 3, a position where we're competing for the medal.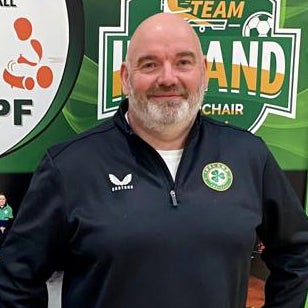 Meet Jerry Sheehan
Team manager who brings new perspectives and confidence to the game and players.
Q: How did you become a manager and why? I have been involved with it since 2009 when my own son played for Midlands United and then for last World Cup in Florida. Unfortunately, he passed away, but I just love it from the point of view I could see what it had done for my son and I can see what it does for others. I can see the benefits of this game for us as a family and players themselves in terms of development and social aspects.
Thank you team Ireland! Good Luck at the World Cup!
You too can support the FIPFA Powerchair Football World Cup