Our passionate colleagues from Northern Europe cycled 40km this June to raise money and awareness for Duchenne muscular dystrophy (Duchenne). The initiative supported 'De Duchenne 40', organized by Duchenne Parent Project Netherlands, to further research and better care for young adults with Duchenne, so that they live to be at least 40 years old.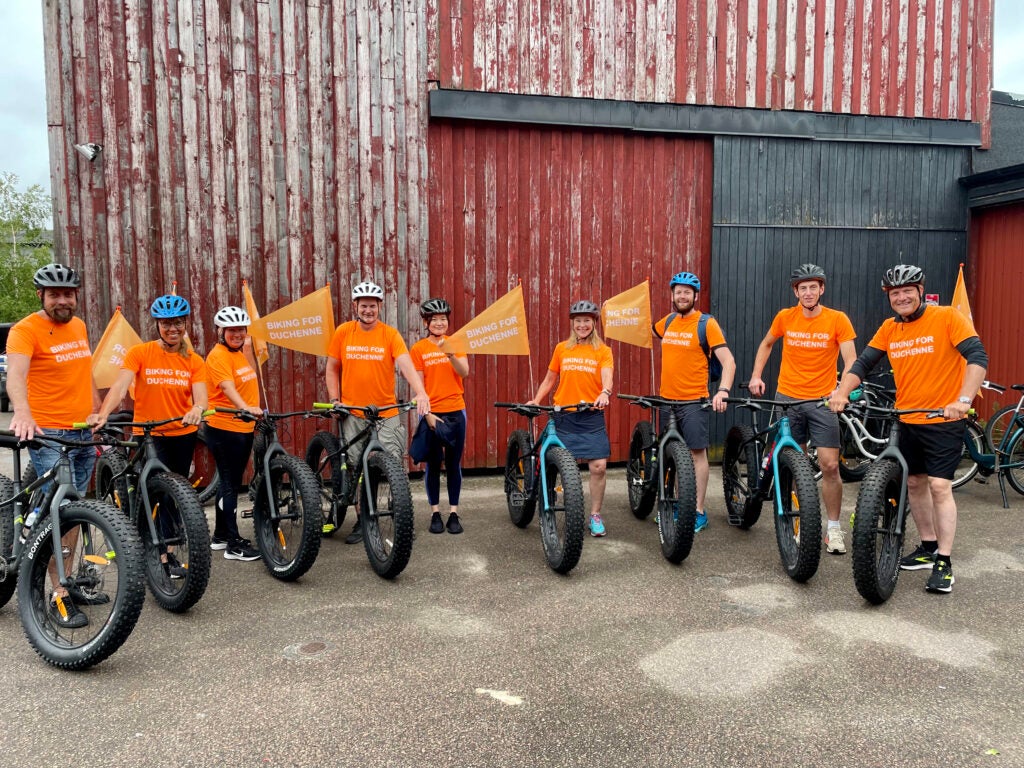 Camilla Johansson, Director, Marketing – PTC Northern Europe, explains how and why the team got involved.
How did you get involved and why?
The Northern Europe team is always looking for ways to support patient communities and organizations in the region, and one way is through fundraising events organized by the groups. Duchenne Parent Project Netherlands is a very active organization who, among other things, organizes the De Duchenne 40 – a fundraising biking event where participants bike for 40km, either the route organized by the Parent Project or in participants' own hometowns. Our team had come together for a company team meeting, so we thought, why not combine our meeting with participation in De Duchenne 40!
Can you tell us more about the event?
The Parent Project in Netherlands describes on their website that many patients with Duchenne are reaching over 30 years old these days. Although this is progress compared to how it used to be, the aim should be higher! The next milestone for those with Duchenne is to be able to live to at least 40 – and that's why the Parent Project is trying to raise as much money as possible. The proceeds from this, and other fundraising events they organize, go into research for better care for Duchenne patients, so that they live to be at least 40 years old with a good quality of life!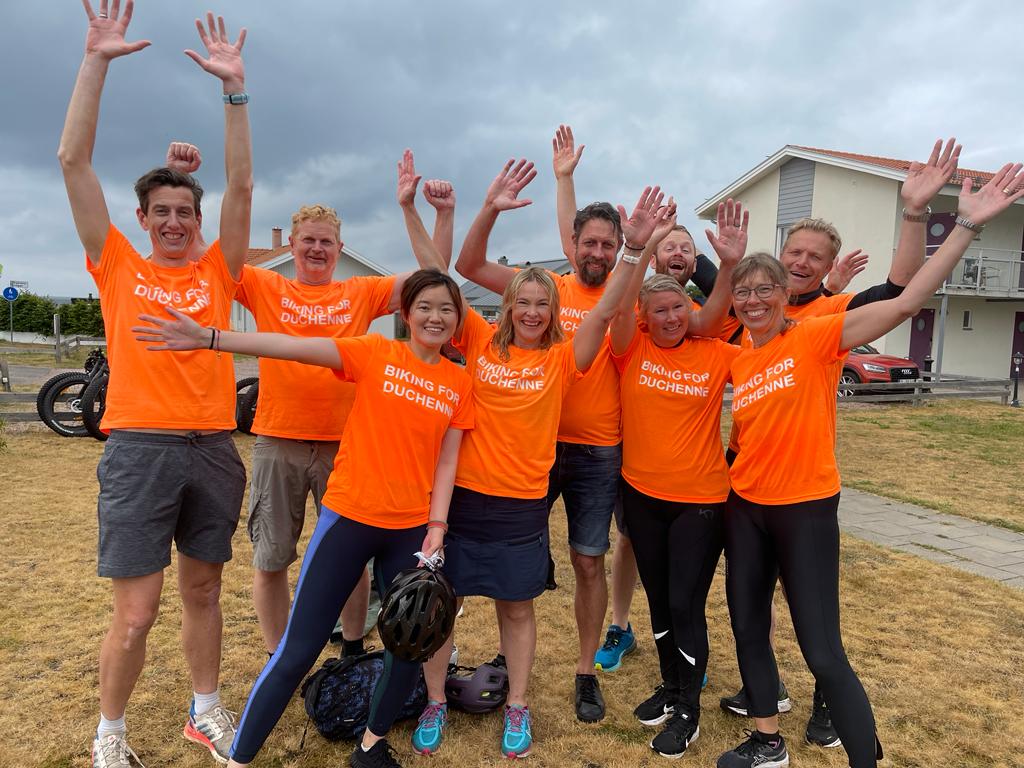 How did you get the team together and their participation?
We contacted the patient organization in the Netherlands and let them know that we wanted to participate in this charity biking event remotely from Sweden. They were thrilled, as we were the first international team to participate and shared on their social channels. We thought that the more who participate, the better, so we also approached colleagues outside our team who are living in Sweden. In total, nine people participated.
How did you prepare for the 40km bike ride?
We started thinking about what route we should choose to bike that was at least 40 km long. We had different ideas but decided in the end to go on the west coast, between Halmstad and Båstad as the scenery is beautiful there. To make sure we were well seen by the people we passed by, we ordered Dutch orange t-shirts and flags for the bikes, with the text Biking for Duchenne.
As we were biking by the coast, we came up with the idea to make it even more challenging by choosing to go on so called fat-bikes on the beach! Where the sand was loose, it was very difficult to bike, but by the waterfront, it was much better. We definitely drew people's attention!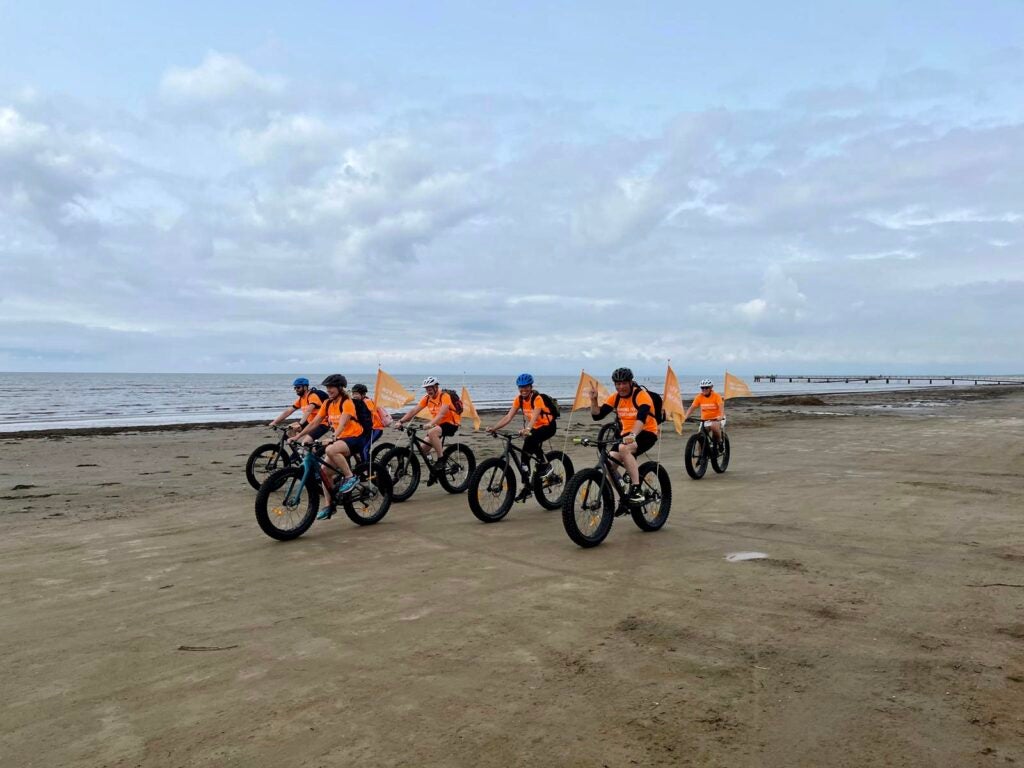 How much money was raised and how will this help the organization?
Each of us made a contribution when signing up to the event. In total, more than 200 people participated in De Duchenne 40 and an amount of € 33,792 was raised! The proceeds will fund research towards better care for young adults with Duchenne.
To learn more about this event visit the Duchenne Parent Project Netherlands website