Mocotó SQF and Chef Rodrigo Oliveira
Imagine being unable to experience the delight of eating food in a restaurant without fear.
For people living with the rare disease familial chylomicronemia syndrome (FCS), this is their unfortunate reality. FCS, which affects one in 700,000 to one million people, prevents the body from breaking down fat, or triglycerides, leading to an accumulation in the blood. Because of this condition, they can only ingest up to 20 grams of fat per day. To put into perspective how restricting this diet needs to be for people with FCS, an egg has an average of five grams of fat. The diagnosis of FCS changes a person's relationship with food, as going out to eat comes with worry and anguish.
PTC recognized this challenge and set out to find a way to raise awareness of the disease and improve the quality of life for FCS patients. With this goal in mind, a unique and creative partnership flourished between PTC, FCS patient advocacy organizations, Mocotó, and the healthcare communications consultancy LLYC Brazil. Mocotó, an award-winning restaurant in São Paulo, became Mocotó SQF, a restaurant tailored to people living with FCS based on the concept "Eat without fear" ("SQF" is an abbreviation in Portuguese for FCS).
The goal was to create a unique, memorable and safe experience for those living with FCS, so that for the first time in their lives, people with FCS could eat safely away from home, without anguish and fear. In addition to experiencing a distinctive gastronomic experience, they could have moments of socialization and joy with friends and family around the table.
Chef Rodrigo Oliveira, chef at Mocotó and star of culinary reality shows like Iron Chef, Master Chef and others, fully embraced the 'Eat without fear' campaign for Mocotó. He was up for the challenge of creating a dish with only 5g of fat as a way to help those living with FCS, and to show their cuisine could be light, healthy, inclusive and please demanding palates, while offering a complete menu full of flavor.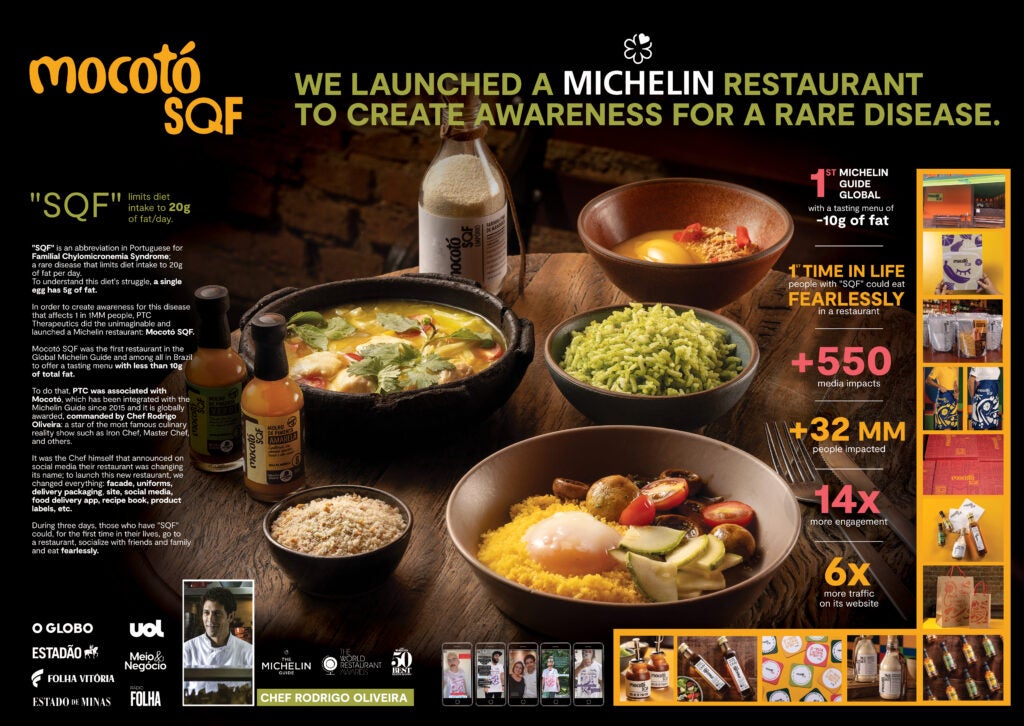 On his social media channels, Chef Rodrigo announced that the restaurant was changing its name and launching an innovative tasting menu. For three days, Mocotó changed everything related to the restaurant: the façade, uniforms, delivery packages, product labels, the website, social networks and of course, the menu. Mocotó SQF then became the first restaurant in Brazil and the only one in the Michelin Guide to offer a tasting menu with less than 10g of total fat.
Additionally, as part of the campaign a book was also launched: "Discovering new flavors: practical and regional recipes specially adapted for SQF." It was developed in collaboration with nutritionists specializing in the disease to bring options for low-fat dishes designed to be easy for any skill level to make.
The impact of Mocotó SQF was felt in the FCS community immediately. For those who dined at Mocotó SQF, many expressed their gratitude and happiness to be able to eat delicious food without worry and were grateful for the awareness around an "invisible illness" like FCS. Many diners also had the chance to speak with Chef Rodrigo, share their stories and thank him for this unique and attentive approach to creating a personalized menu just for them. The restaurant was also recognized for its creativity: Motoco SQF recently won the Merit Award from The One Show, one of the most prestigious awards is advertising, design and digital marketing.
PTC is deeply committed to supporting the rare disease community and their unique challenges and we were proud to be part of such a creative and impactful project to help those living with FCS.