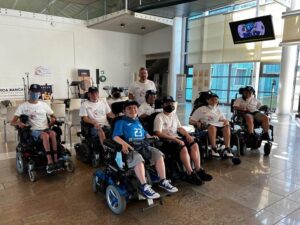 This July, PTC Italy was proud to support an event designed to give families and children with muscular and neuromuscular disabilities the opportunity to learn about wheelchair sport and especially try different types of sports that are accessible to all.
The event, titled "SPORT AND DISABILITY… FROM DREAM… TO REALITY!" was held on 2nd July in the province of Trevisio (Italy) under the organization of the PAO UILDM (Unione Italiana Lotta alla Distrofia Muscolare Section of Treviso) and ) and the TREVISO BULLS APS-ASD Association. More than three hundred families who have children with motor and neuromuscular disabilities from some regions of Northern Italy were invited to this event.
The TREVISO BULLS is a team of Powerchair Hockey, or electric wheelchair field hockey. It is a highly inclusive sport that gives people with motor disabilities, including severe ones, the opportunity to be able to play a team sport. There is, in fact, still a belief that a person with forms of disabilities, even severe ones, cannot or should not play a sport, since for those who cannot move it is useless to play Sport. On the contrary, both Powerchair Hockey and Powerchair Football (electric wheelchair soccer) are real proof that there is no stereotype on the field, kids with disabilities are athletes in every way, in technique, in competitiveness, in the will to never give up, and above all in the desire to want to have fun and to be part of something unique and special.
PTC was delighted to be a supporter contributing to the lives of people with rare diseases and disabilities by promoting sports, inclusion of people with disabilities in society and improved well-being that comes along. Our team members were on-site and had the pleasure to meet the aspiring young individuals.