We are saddened to say farewell to Daniel Castro who passed away in January 2023.     
We fondly cherish Daniel's life, his charisma, and achievements. Daniel's story will continue to inspire us in our mission to develop treatments that change the course of rare diseases and the lives of our patients .
In loving memory of Daniel.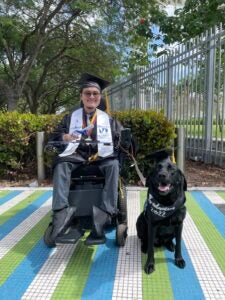 Daniel Castro is a 23-year-old filmmaker from Florida and a recent graduate at Miami Dade College where he studied Film, Television and Digital Production. His family has been Daniel's biggest supporters, especially his dad Jose. At age 5 Daniel was pre-diagnosed with Duchenne Muscular Dystrophy (DMD). Jose discovered research about the newly available gene sequencing test at that time, which confirmed the diagnosis.
Whilst in high school Daniel fought through his shyness by getting into sports journalism. He practiced both his social and writing skills as he interviewed coaches and players before writing articles. After high school, he moved his attention from sports journalism to screenwriting and started looking into filmmaking programs at universities in Florida. He ultimately decided to go to the School of Entertainment & Design Technology at Miami Dade College in South Florida which offered an excellent film program where he could develop as a creative and filmmaker.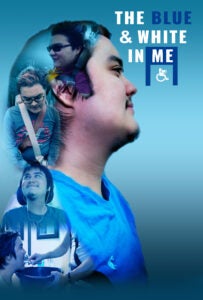 "The Blue and White in Me" was the final project of Daniel's bachelor program. It was supposed to be a documentary film about the disabled community's struggles and inequalities with airline travel. However, due to the Covid-19 pandemic, Daniel had to readjust the documentary's story. For a while he struggled to rediscover his voice. Suddenly, Daniel began to deeply appreciate his journey over the years and the film morphed into an introspective self-journal. The pivot continued as the film was shot with the help of his dad instead of a crew of fellow film students to avoid the risk of contracting Covid-19.
Daniel submitted his documentary film to the 2022 CinemaSlam competition, which is the Miami Film Festival's annual Florida film school competition that celebrates excellence in student filmmaking. The committee selected 9 films as finalists from dozens of submissions to be screened, which included Daniel's film. This was a huge milestone in his filmmaking journey.
Daniel is currently working on his first short film post-graduation. As the writer, director and editor, Daniel collaborated with a talented cast and production team. The film is loosely based on his dad's experience when Daniel was first diagnosed with Duchenne back in 2003. Daniel notes that the caregiver stories in the community tend to focus on moms, so he wanted this film to shed a light on dad caregivers. He hopes to be an advocate for the Duchenne community through his films.
Films are the best medium of expression for me, and I would like to be an advocate for the Duchenne community through my films.
Daniel's advice to others affected by Duchenne is:
"Believe in yourself. Believe in your abilities and most importantly learn how to love yourself."
Click here to watch Daniel's documentary film "The Blue and White in Me"