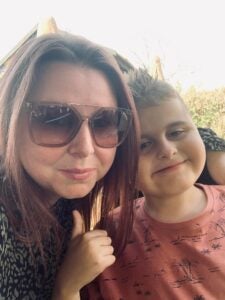 Shelley Simmonds is a mother and carer who has used her personal experiences to campaign for better resources and care for those in the Duchenne, rare disease and disability communities.
As a mother of two from Essex in the UK, Shelley experienced the effects of Duchenne firsthand when her son, Fraser, was diagnosed with the condition when he was just a year old. Shelley noticed that Fraser wasn't meeting the same developmental milestones as his older sister, and by the age of two, Fraser was using a wheelchair to move around. Despite her son's difficult diagnosis, Shelley and her family made the conscious decision not to become overcome with negative emotions and instead try to accept things for how they were. In Shelley's own words, 'there are no pity parties in my house', and acceptance is key 'I don't want my son to grow up feeling like he is different or like he has a bad life'. Instead, Shelley and her family have bravely taken things in their stride and accepted challenges as they have faced them, which is reflected in Shelley's dedication as a mother and by her advocacy work.
Shelley's first taste for advocacy work was through her blog 'Fraser and Friends'. Inspired by her son, Fraser, Shelley created this page to unite carers and members of the rare disease and disability communities. Shelley's blog hosts important conversations around common issues the disabled community face, including blue badge parking, toilet facilities, step-free access, attitudes, and experiences along with daily anecdotes highlighting the realities of being a mother and caregiver. Shelley's positivity combined with her realist attitude has led to Fraser and Friends being a huge success with over 15,000 followers.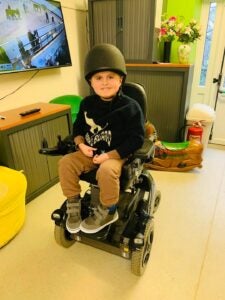 Due to the successes of her blog, Shelley soon started receiving requests to discuss the impact of COVID-19 on the disability community for local and national newspaper outlets, and she has featured for pieces in The Sun, The Telegraph, and The Huffington Post. Most recently, Shelley was fundamental in securing funding for two new inclusive, disability friendly, Changing Places facilities in her local borough. Although change for the disabled community is often slow, Shelley's determination has led to an outcome that will improve the lives of many disabled individuals in her local area. Shelley has also been appointed as a trustee for Disability Rights UK, and she is the first ever parent/caregiver to be given this position, which is a huge testament to her advocacy work for the disabled community.
When asked about what she is most proud of over the last year, Shelley discussed a TV interview with BBC News, where her and her son highlighted the impact of COVID-19 on clinically 'vulnerable' communities, including the effects of missed hospital appointments and shielding. Not only did this lead to greater awareness, but it also led to Shelley and Fraser becoming local celebrities as they were often recognized in their community-even Fraser's cardiologist commented on his newfound stardom, after seeing him on the news!
And as if all of that wasn't enough…Shelley also received caregiver of the year, 2022 by the charity Muscular Dystrophy UK. Shelley was granted this award for her wide range of advocacy work and determination to improve lives for the Duchenne community. In addition to this, Shelley and Fraser also have a Prime Minister's Point of Light Award for their advocacy work, and they gained a Pride of Essex Award in 2017 after they hiked Mount Snowdon for charity, with Fraser being carried to the summit on his Mum's back!
Shelley's commitment to her son, family and campaigning for the community has shown that individuals affected by Duchenne CAN continue to turn tough times into opportunities for change.