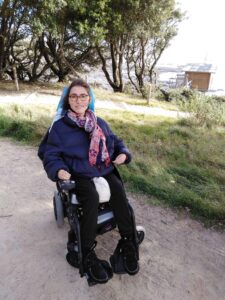 Feriel Chebba is a 30-year-old woman who is living with Duchenne in France. Diagnosed at 6 years old following a muscle biopsy, Ferial has used a wheelchair since she was 11 years old. But her diagnosis hasn't stopped her from having a positive outlook and living in the moment.
After primary school, Feriel attended college where she studied performing arts, film and theater studies for two years. Her creative flair keeps her motivated and curious of life.
I am a strong and courageous woman who rarely complains. I live day to day and enjoy the present moment. I am very positive.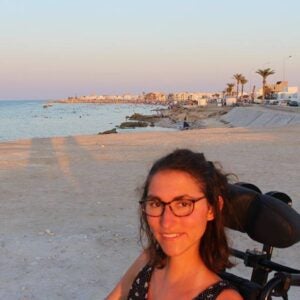 Only 1 in 50 million baby girls are born with Duchenne.1 Despite the rarity of this condition in girls, Feriel has harnessed the power of social media to make contact with several other women living with the condition. In order to help others do the same she has set up a Facebook group 'Girls with DMD in the world' which aims to bring a community of females with Duchenne together. Feriel is also passionate about ensuring that girls and women with Duchenne aren't left behind, and has shared her story with La Force DMD, Muscular Dystrophy UK and Rare Disease Day, to educate people that "females with Duchenne are rare, but they do exist and deserve to be heard."
Feriel is an eager world traveler and has visited 12 different countries! Her favorite country she has been to date is Cuba, as she loved swimming in the warm sea, the magnificent scenery and meeting the friendly locals! For her next trip, Feriel and her family are going to Rome. "Traveling with Duchenne is a bit tiring but doable" says Feriel. For her, preparation is the key to a successful trip. Feriel even has a Facebook blog on the subject 'Travel in Wheelchair'.
When she isn't travelling Feriel enjoys singing and takes classes every week. She also spends her time watching movies, reading, drawing, visiting museums, and exploring her city, Courbevoie, which is on the outskirts of Paris.
Feriel's advice for other people affected by Duchenne is to "Live day to day and enjoy the present moment"
1. Nozoe KT, et al. Phenotypic contrasts of Duchenne Muscular Dystrophy in women: Two case reports. Sleep Sci. 2016; 9(3): 129–133.