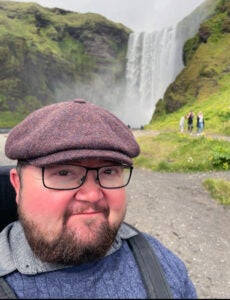 Guðjón is from Iceland and is living with Duchenne. As an academically focused young man, he was always top of the class whilst studying for a degree in pharmacology at the University of Iceland. However, he realized that he could use his scientific talent and everyday experience of living with Duchenne to help support advances and our understanding of genetic disorders.
"I used to avoid acknowledging my condition, but after my first year at University, my friend told me that burying my head in the sand wouldn't help! I realized I had an opportunity to learn more about Duchenne and other genetic disorders, and help others in the process"
With a newfound determination, Guðjón took matters into his own hands and embarked on a project to see if a gene editing technology, called CRISPR, had the potential to treat Duchenne. There are a number of genetic mutations that can lead to Duchenne, so why not start with his own? Guðjón collected and established a bank of his own muscle cells, which could be used for his, and future, research into Duchenne around the world. These are a rare and important asset for genetic research progression.
With a taste for applying himself to the advancement of the understanding of genetic disorders, Guðjón has continued his scientific career. He recently submitted his PhD thesis and has published research articles on genetic mutations that effect red blood cell generation. Today he continues to dedicate himself to this area of research.
But that's not all he is doing!  Guðjón works closely with patient organizations in Iceland and the UK, giving talks and interviews on living with Duchenne to help spread awareness and inspire boys and younger men living with the condition.
In his leisure time Guðjón co-hosts the comedy podcast 'Calling Munro' and is busy preparing for his 30th Birthday!
Thanks to his dedication and hard work, Guðjón is demonstrating that people with Duchenne CAN progress our understanding of genetic disorders and help others with these conditions.