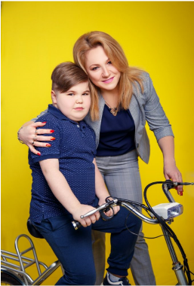 Marharyta lives in Ukraine with her 13-year-old son, Danya, who was diagnosed with Duchenne muscular dystrophy seven years ago. But she's not your typical caregiver!
Over the past few years, Marharyta has worked tirelessly to improve her son's life and raise awareness of Duchenne in her local community.
Marharyta understood the key role that education plays in children's lives, especially children living with a disability. Therefore, as part of her efforts, Marharyta focused on ensuring that Danya can attend his local elementary school, supporting both her son and the school through the challenges they've faced along the way – including providing physical therapy during school hours. By sharing insights into what it's like to live with Duchenne, Marharyta has worked together with teachers, parents and other children to ensure they can support Danya as he enjoys and gets the most out of his time at school.
Marharyta's dedication to collaboration and improving the facilities at her son's local school inspires us. Her work means that as a child living with Duchenne, Danya CAN learn, grow and enjoy his education… just like his classmates.
"I wanted to ensure that Danya was able to benefit from all of the social and developmental experiences that school provides. Determination and collaboration were key in making it all possible." – Marharyta