Björn, from Sweden, doesn't let his Duchenne muscular dystrophy diagnosis stop him from making a difference and empowering others like him.
"Accessibility goes beyond a ramp or a lift. I'm proud to be contributing to decision-making to improve accessibility for those living with disabilities in my community. I hope to empower and inspire others in shaping the future." – Björn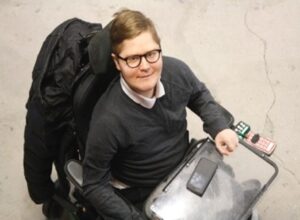 Independence has always been a focus for Björn, now age 32. With the support of his government-funded (LSS) personal assistant, Björn is living independently and working as an advisor for the Swedish Research Foundation for Muscular Dystrophy (SMDF). His work includes supporting and offering guidance over the phone to recently diagnosed families living with Duchenne, and taking a key role in week-long summer camps for children and young adults living with neuromuscular diseases.
This year, he even gave a talk to 120 participants at the virtual SMDF Symposium 2021, highlighting the real-world impact and importance of personal assistants for people living with neuromuscular disorders. Björn is keen to put his experiences into practice via his work with the local government to improve access to buildings, outdoor spaces and to shape new developments. He aims to make his town accessible to all.
In his free time, Björn is an avid video gamer. Gaming opens opportunities for communication and a way to share moments with friends. When he heard that local game studio Massive Entertainment was looking for people with disabilities to test their games, he saw a great opportunity to work on his two passions – gaming and accessibility.
Björn joined a network of game testers who play games and provide feedback on how their accessibility can be improved. For example, people living with Duchenne and other muscular dystrophies may find it difficult to press a button multiple times in quick succession. Feedback from Björn and others has meant that a lot of games now have the option to hold down the button instead. This initiative, and others like them, have had a huge impact on opening the gaming world to people with a variety of accessibility challenges.
Björn's endless positivity and dedication to improving many aspects in the lives of the Duchenne community inspires us. He continues to show that people living with Duchenne CAN achieve great things and create opportunities for others to do the same.