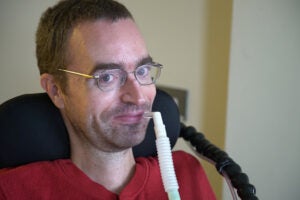 Jon Rey-Hastie is a 41-year-old man living with Duchenne in the UK. Looking at his life achievements, he exemplifies what people with Duchenne CAN achieve. Jon is the Co-founder of Pathfinders Neuromuscular Alliance, has a Ph.D. in Government, and lives independently with his husband.
An academic overachiever, Jon completed his Ph.D. in Government at the University of Essex in 2008. During his studies, he learnt about how systems and policies work, and the art of navigating bureaucracy – this would later set him up for a career in advocacy work.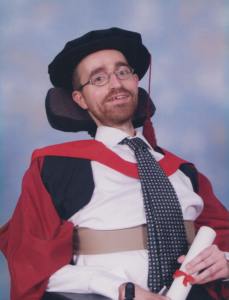 It was during his Ph.D. that Jon read a magazine article about a man living with Duchenne in his 40s. This story changed Jon's view of his prospects and gave him the courage to embark on his life-long dream of visiting the US. With this new-found perspective, Jon decided to produce a film that shines a light on how adults with Duchenne are living life to the fullest. His film "A Life Worth Living: Pushing the Limits of Duchenne" was released in 2012, and shows him visiting other adults living with Duchenne in the UK and learning about their day-to-day lives.
Around the time when his film premiered, the patient organization Action Duchenne approached Jon to join the steering group for their newly launched project 'Takin' Charge', a program to support young people with Duchenne who were transitioning into adulthood. Inspired by his involvement in this steering committee, Jon and his friend, Mark Chapman who also has Duchenne, set up the patient group, Pathfinders Neuromuscular Alliance. The group originated as an online community for adults living with Duchenne to share practical tips with each other. Pathfinders Neuromuscular Alliance has since grown into a user-led charity which promotes choice, control, and quality of life for people with neuromuscular conditions in the UK.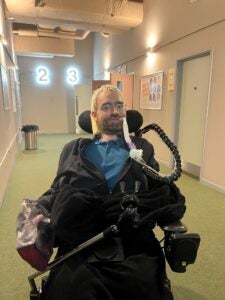 Jon began living independently during his doctorate program and has continued to do so ever since. He manages the logistics of his care packages and employment of his personal assistants to support his independent living needs. Jon highlights that arranging these logistics himself gives him great freedom and it has helped him tremendously in his work, friendships, and dating life.
Dating with a disability is challenging as you have to sift through people who are either discriminatory or just don't take you seriously, and there are many people who waste your time. But it just takes one good encounter to be successful, and it can work out.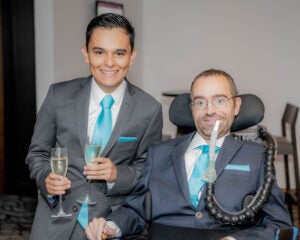 Jon's husband, Tomas, was a Materials Engineering student in Sweden when they met. Despite having to deal with the challenges of finding a home together and relocating Jon's care package, they got married in 2018. Jon describes the challenges as "a bit of a nightmare, but you can get through them. And at the end of it, your life will massively improve for the better. It is worth fighting for." Jon and Tomas are currently residing in Reading, UK.
Jon's advice to others who have been diagnosed with Duchenne is to actively engage with the Duchenne community, who are able to understand and support in many ways.
An amazing life is possible if you fight for it. Set yourself big goals and do everything you can to make them happen.